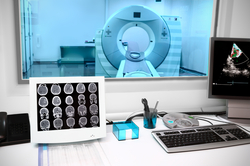 Frisco, TX (PRWEB) September 17, 2014
Frisco Spine is pleased to announce that Dr. Michael Turner has begun using the Airo® Mobile Intraoperative CT Scanner to treat patients. Dr. Turner has found that the Airo® provides a greater degree of accuracy and safety when it comes to surgical navigation. "I have done five cases with the intraoperative CT, including lumbar spine, cervical spine, and brain tumors," Dr. Turner said.
The use of the Airo® is part of what makes Frisco Spine a leader in addressing spine disorders. Our back and neck pain specialists continually use the latest medical techniques and technologies to diagnose and address health problems of all kinds.
About the Airo® Mobile Intraoperative CT Scanner
Developed by BrainLab and approved by the Food and Drug Administration (FDA) in October of 2013, the Airo® aids surgeons in visualization while they perform operations on the brain and the spinal cord. Patients need only to sit back and relax as the Airo® takes a highly detailed scan of the tissues being worked on.
"Though a similar intraoperative imaging system was previously available, the Brainlab Airo® is a true CT and much faster and easier to use, which decreases operative time," Dr. Turner said.
While traditional X-rays or MRI scans can sometimes take up to 40 minutes to develop images, the Airo® can produce three-dimensional 32-slice CT scans in just one to two minutes.
Applications for Patient Care at Frisco Spine
"I will be using the Airo® on all fusion and tumor surgeries, which will be about half of the cases that I do," said Dr. Turner. In essence, the Airo® is ideal for examining all parts of the spine, particularly during surgeries and invasive therapies. The precision and rapid advanced imaging of the Airo® will help reduce risks following back and neck surgeries and improve the safety and effectiveness of these procedures overall.
The mobility of the Airo® makes it especially useful for addressing the needs of multiple patients at a facility. Thanks to its careful design, the Airo® can actually be moved with ease from room to room by a single person, allowing this state-of-the-art tool to go where it's needed while at the clinic. This is ideal for patients who have limited mobility and/or maneuverability due to neck or back problems.
Continuing to Refine Patient Treatment Techniques
While Dr. Turner has already used the Airo® to help a few patients, he recently underwent additional training to expand his knowledge of the Airo® and its uses. By continuing to educate himself and look into all possible treatment applications, Dr. Turner will be able to improve his ability to assist patients.
This commitment to ongoing advanced education is a priority for the entire team at Frisco Spine. All of the practice's experienced neck and back pain specialists continually hone their skills, seeking out the latest improvements in the medical field. This professional diligence will help the patients of Frisco Spine experience better overall health and wellness.
Learn More about Neck and Back Pain Treatment
For more information about treatments for spinal disorders as well as the many other options for improving the health and wellness of the spine, contact Frisco Spine:
Frisco Office
4461 Coit Rd, Ste 405
Frisco TX 75035
(972) 377-9200
Carrollton Office
4323 N Josey Ln, Ste 202
Carrollton TX 75010
(972) 394-4600
Denison Office
5012 S US HWY 75, Ste 300
Denison TX 75020
903-327-8751
Plano Office
6513 Preston Rd
Plano TX 75024
(214) 705-9599
Originally posted by Paul Salinas