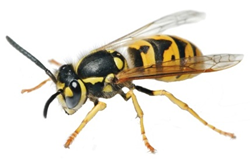 Up until now yellowjackets have had plenty of food, but towards the end of the season...they will do anything to fill their cravings
Spokane, WA (PRWEB) September 10, 2014
By early fall, and just in time for the new school year, yellowjackets are at peak numbers. Mean and aggressive, these stinging insects are looking for something sweet to eat, such as sodas, fruits, juices, candies, cakes, and even vegetables.
Angry yellowjackets can ruin outdoor activities and even send some to emergency rooms. Unlike mild-mannered bees, they don't die once they attack and can sting multiple times. Children are at risk when underground nests are found near schools.
For some people, these painful stings are deadly. According to the University of Illinois, 40 to 50 people die in the United States from yellowjacket stings each year, often as result of an allergic response known as anaphylactic shock.
"Up until now yellowjackets have had plenty of food, but towards the end of the season, there are more hungry larvae and workers and less food to keep them satisfied. At this time of year, they will do anything to fill their cravings," explains Dr. Qing-He Zhang, director of research at Sterling International Inc., developers of RESCUE!® Yellowjacket Traps.
Yellowjackets travel as far as a mile to find food rich in protein, sugar and carbohydrates, often feeding at picnics, barbecues and concession stands, where humans and pets are vulnerable.
RESCUE!®, the leader in environmentally responsible insect control, offers tips and tricks to protect against these aggressive pests.
Tips to avoid yellowjacket stings:

Stay calm. Don't swat at a yellowjacket or flail around. This just makes them more aggressive.
Look before sipping. Yellowjackets love sugary sodas and sweet beverages and could hover around straws, bottles or even in soda cans.
Keep trash covered and away from outdoor activities, such as barbecues and picnics.
Avoid smashing or crushing a yellowjacket – doing so causes them to release an alarm pheromone that calls others to attack.
Be bland. Avoid using scented perfumes, lotions or hairspray, or wearing bright colors as these all attract yellowjackets.
Do not pick up a dead yellowjacket. It can still sting until rigor mortis sets in.
What to do if stung:
Wash the area with soap and water
Apply cold water or an ice pack
Take an antihistamine to reduce swelling
Apply a calamine product to reduce itching
Don't drink alcoholic beverages
Seek medical attention immediately if swelling is severe, breathing is difficult or a dizzy feeling occurs
Trapping Yellowjackets:
This fall, fight back against aggressive yellowjackets with one of RESCUE!®'s traps. Protect schoolyards and enjoy autumn activities without unwanted guests. All RESCUE!® products are safe around children and pets and made in the USA.
Established in 1982, Sterling International, Inc. offers RESCUE!® traps and attractants for stink bugs, wasps, hornets, yellowjackets, flies, Japanese and Oriental beetles and more. These products are prominently on shelves at home improvement centers, hardware stores and lawn & garden retailers throughout the U.S. and Canada. For more information and great tips, visit http://www.rescue.com. You can also follow RESCUE! ® on Facebook and Twitter.