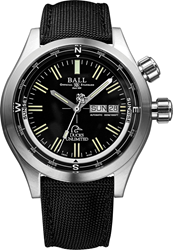 St. Petersburg, FL (PRWEB) September 10, 2014
Luxury watch manufacturer BALL Watch Company has entered into a multi-year license agreement with Memphis, TN based Ducks Unlimited, the world's leader in wetlands and waterfowl conservation.
In collaboration with DU, BALL Watch is designing and manufacturing a line of "Best in Class" sportsman's watches. These watches will be manufactured for DU members and the general public over the term of the agreement. A significant percentage of the proceeds of each watch sold will go towards Ducks Unlimited's wetlands conservation efforts.
"BALL Watch is thrilled to partner with the preeminent wetlands conservations organization in the world. It is our primary objective to support and fund the many honorable efforts of DU worldwide as the gatekeeper to our precious wetlands," said Jeffrey P. Hess, CEO of BALL Watch USA. "In doing so we are working to create watches that have all of the essential elements that an outdoorsman dreams to have in a timepiece to create the ultimate line of sports watches."
The first watch to be released will be a special Limited Edition watch, The Engineer Master II Sportsman, and will celebrate the year that DU was established by only offering 1937 pieces.
This Limited Edition watch is an automatic 44mm watch with a titanium case, featuring a super-luminova sunset/sunrise indicator with internal bezel, self-powered micro gas lights on the dial, a solar compass, military-grade water-resistant nylon strap and an anti-reflective sapphire crystal. The watch is anti-magnetic to 4,800A/m, shock resistant to 5,000 Gs and water resistant to 300m/1,000ft. The dial will feature the DU Logo and the case back the iconic "DU Flying Mallard" in 3D relief.
# # #
About BALL Watch Company:
Since 1891, BALL Watch Company has been producing timepieces that comply with the most stringent criteria for precision, quality and reliability. As a pioneer of chronometry standards and with a rich past closely associated with the history of the American railroads, BALL Watch remains one of the most respected and well established watch brands in the United States. Today, more than ever, BALL Watch is continuing its journey and asserting its role as a key protagonist in the evolution of watchmaking history.
For more information regarding BALL Watch Company and its products worldwide, please visit http://www.ballwatch.com