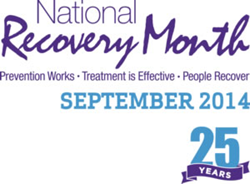 I am honored to be a part of this great movement focusing on the solution rather than the problem - Janis Ellington, Willingway Special Events Coordinator
Statesboro, Ga (PRWEB) September 17, 2014
As National Recovery Month celebrates its 25th anniversary, this year's theme, "Join the Voices for Recovery: Speak Up, Reach Out," represents the many ways that people can prevent behavioral health issues and addiction, seek treatment, and sustain recovery as part of a commitment to living a mentally, physically, emotionally, and spiritually healthy life. This year Willingway and Pineland BHDD are teaming up to promote awareness, prevention, treatment, and hope! Event planners will be hosting prevention initiatives throughout the month leading up to the 2nd Annual Recovery in the Park Celebration. Festivities will include speeches from community leaders, a recovery day pep rally, community softball tournament, gratitude meetings, picnic lunch, kids games/activities, and screening of The Anonymous People documentary.
'Recovery In The Park' is scheduled for September 27, 2014 and will be observed at the WW Mann Center located at 2171 Prather Rd, Statesboro, Georgia. Event coordinators have been overwhelmed by and are appreciative of the community response to pitch in and help make this event a huge success! Recovery is out and people are speaking out to share about the message of recovery and hope!
About Willingway:
Over the past 40 years, Willingway, located just outside historic Savannah, Georgia, has helped more than 20,000 patients recover from alcohol and drug dependency.