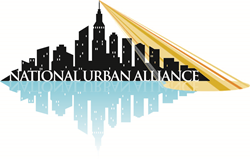 Syosset, NY (PRWEB) September 10, 2014
National Urban Alliance (NUA) for Effective Education will collaborate with leaders from the Panasonic Foundation to advance the foundation's goal of improving academic and social success for all students.
As Visiting Scholar to The Panasonic Foundation, Dr. Yvette Jackson, CEO of NUA, will conduct virtual and face-to-face meetings with the Foundation's senior staff and consultants. These meetings aim to strengthen the foundation's established ability to promote equity and excellent in the urban school districts that it partners with through deeper exposure to the Pedagogy of Confidence – a practice that focuses on students' strengths, instead of their weaknesses, to inspire learning and high intellectual performance.
"We're excited to partner with a foundation that aims to break the links between race, poverty and educational outcomes," said NUA President Eric Cooper. "We believe the Panasonic Foundation will see positive results from its expanded learning around research-based strategies that foster higher-level thinking."
The Pedagogy of Confidence uncovers the strength of students and teachers and builds on those strengths. Its three core beliefs are: intelligence is modifiable; all students benefit from a focus on high intellectual performance; and learning is influenced by the interaction of culture, language and cognition.
"The Panasonic Foundation, which forms long-term partnerships with public school districts and their communities to break the links between race, poverty, and educational outcomes, is an ideal organization to implement lessons the Pedagogy of Confidence," Jackson said.
As the Panasonic Foundation's first ever visiting scholar, Dr. Jackson will lead full day sessions and presentations with senior staff and consultants and leaders from school districts that the Foundation partners with to discuss strategies to bring out the best in all students.
"We are looking forward to drawing on Dr. Jackson's expertise to immerse consultants, staff and district teams in activities, learning experiences, ideas and strategies from the Pedagogy of Confidence," said Larry Leverett, executive director, Panasonic Foundation.
The NUA also will assist with the Panasonic Foundation's publication, Strategies. The spring 2015 issue will focus on tactics to advance equity and excellence, which will include a case study from a NUA partner school district that has shown progress with the implementation of the Pedagogy of Confidence.
###
Based in Syosset, N.Y., and founded in 1989 at Teachers College, Columbia University, the National Urban Alliance for Effective Education provides student-focused professional development, advocacy and organizational guidance to expand and accelerate student achievement. NUA works with teachers, school administrators and communities to identify strengths to leverage the needs and break down barriers to achievement and transform schools.
The Panasonic Foundation has worked for three decades supporting and enhancing school district leadership to break the links between poverty, race and student achievement. In the New Jersey Network of Superintendents, the Foundation has built a community of practice, with superintendents meeting regularly to learn from best practices, frame their particular problems of practice, engage in action and learning to make improvements in their districts, and support each other in that work through regular face-to-face meetings. In Collaboration for Innovation, Panasonic Foundation is working to develop a national, cross-district online community of practice.