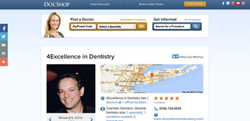 Levittown, NY (PRWEB) September 10, 2014
4Excellence in Dentistry has established itself as a leader in advanced dental wellness. Dr. Lewis Ricciuti, Dr. James Albanese, and Dr. Jennifer Moore are pleased to announce that 4Excellence in Dentistry has received a page and video profile on DocShop, a trusted patient education and online resource center.
"We're happy to have been featured on DocShop and hope this means more patients will be encouraged to visit and see what 4Excellence in Dentistry has to offer," said Dr. Ricciuti.
A Commitment to Patient Care and Total Wellness
At 4Excellence in Dentistry, the patient is always the first priority. In order to ensure this is the case, the team offers free consultations to all patients, which includes dental x-rays for no charge. This allows guests at the practice to learn what challenges they may face and what treatment options might be best to address these matters.
The team at 4Excellence in Dentistry feels that by providing these kinds of simple and convenient services, patients are more comfortable with the general, cosmetic, and restorative dentistry treatment process and feel more welcome as well.
"By inviting patients to visit the practice and learn what types of issues they're dealing with, they'll feel more like part of the practice's family," said Dr. Ricciuti.
State-of-the-Art Treatment and a Friendly Atmosphere
4Excellence in Dentistry offers the latest in advanced care using state-of-the-art technology. This includes safe and detailed digital radiography, artistic and seamlessly fabricated porcelain veneers, ultra-thin LUMINEERS® (no-prep dental veneers), exceptionally crafted dental appliances, and highly precise color-matching for tooth-colored restorations. This advanced approach to dentistry is combined with a friendly chairside manner.
"We always make sure, no matter what, that patients are comfortable and well looked after," said Dr. Albanese. "Combining advanced dental care technology and being as helpful and understanding as possible is a great way to achieve that."
Extending an Invitation to New Patients in the Community
With the DocShop profile in place, 4Excellence in Dentistry will be able to extend a wider welcome to patients in the Levittown area of Long Island. This includes drawing in patients from surrounding communities such as Garden City and Woodbury. The team also encourages current patients to recommend their friends and family.
"Building a strong sense of belonging and community through great dental care is what we're all about," said Dr. Moore.
New Patients May Qualify for a $100 Credit on Dental Care
If new patients at the practice mention the 4Excellence in Dentistry website or the profile on DocShop, they may quality for a $100 credit on their dental care treatment.
"It's just one of our many ways of showing appreciation to people who put their trust in us," said Dr. Moore.
About DocShop
DocShop has been connecting patients to dental and medical professionals for more than a decade. Created by Einstein Medical, a web development innovator, DocShop provides ample information on medical and dental procedures as well as profiles on health specialists based throughout the United States.
About 4Excellence in Dentistry
A staple of the community for almost three decades, 4Excellence in Dentistry is a leader in advanced dental arts. The dentists, dental hygienists, and office staff have built a strong family of patients throughout Nassau County thanks to patient-centered approaches to total dental wellness.
Learn More about Dental Care Treatment Options
For more information about advanced dental care treatment, contact 4Excellence in Dentistry online.
4Excellence in Dentistry
Levittown Office
3000 Hempstead Tpke, Ste 101
Levittown, NY 11756
(516) 735-3535
Originally posted by 4Excellence in Dentistry