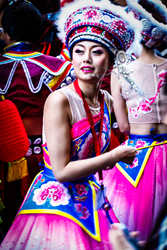 We hope travelers will join us to discover other less-visited destinations, like Colombia, Central Asia, and Kashmir.
New York,NY (PRWEB) October 29, 2014
A Rome-based photographer who shot a Chinese New Year parade in the Eternal City has won a $1,000 credit on a luxury cruise from tour operator Academic Arrangements Abroad.
Lisa Shalom's stunning image of a Chinese dancer took first place in the company's "Adventures Abroad" photo contest, as selected by an expert panel of judges. "I love the gorgeous color and composition, and the stop action of the woman's jeweled headpiece across her face while she was moving," says panelist Cathy Farber, vice president of marketing & communications.
Casey Cochran's shot of boats in Venice took second prize: a $500 credit on one of the company's luxury cruises. "The rich color palate and composition are what first drew me in," says guest judge Daniel Kukla, a professional photographer. "But what kept me looking was the reflection in the water, which shows the buildings and sky and provides a unique view of a unique place."
Third prize, a micro luggage scale, went to Haley Hunter for her image of a Tasmanian landscape. "This photo shows one of the most remote and stunning places in the world," says Farber. "We hope travelers will join us to discover other less-visited destinations, like Colombia, Central Asia, and Kashmir."
Finally, this year's People's Choice award goes to Danielle Robidoux for her shot of Acro yoga, which blends yoga and acrobatics, on a beach in Puerto Rico. She also received a micro luggage scale.
Academic Arrangements Abroad sponsored this photo contest to raise awareness of its adventure travel programs—a newer offering for a company that has long been known for its art-focused tours. On these more active trips, travelers can enjoy one-of-a-kind experiences like discovering ancient temples in Sri Lanka, exploring Roman ruins in Tunisia, or hiking along the Camino de Santiago in Spain.
About Us
Founded in 1977, Academic Arrangements Abroad provides an insider's look at extraordinary destinations in more than 50 countries through its networks of museum curators, professors, and diplomats. The company also offers a selection of adventure travel programs that venture off the beaten path to less-visited areas or have active components.
For more information on this release, please contact Sara Welch, Marketing & Communications, (212) 514-8921 or saraw(at)arrangementsabroad(dot)com.