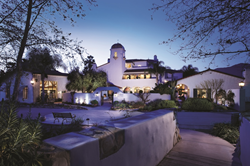 (PRWEB) September 10, 2014
Spa Ojai, the iconic luxury spa at Ojai Valley Inn will be celebrated by the International SPA Association at the upcoming 2014 ISPA Conference & Expo with an ISPA Experiences Innovate Award for its safe treatment modifications for oncology spa guests. The ISPA Innovate Award is given to spa industry leaders with innovative and successful spa-related initiatives.
Spa Director Gloria Ah Sam, will represent Ojai Valley Inn & Spa at the 2014 ISPA Conference & Expo, sharing insights on strategies and execution necessary to cater to spa guests who are in or have a history of cancer treatment.
"Innovation is the driving force behind growth in the spa industry," said ISPA President Lynne McNees. "Recognizing the innovation that is occurring within ISPA's membership will encourage and inspire future ideas."
"We're so honored to receive this recognition on such an important topic," said Gloria Ah Sam. "The latest cancer statistics for California show that 1 in 4 people in our state will be diagnosed with cancer at some point in their lives. We believe it's important to provide the best spa treatments possible to all our guests, especially those who have been diagnosed with cancer and the training we've conducted on the necessary modifications have made this possible."
The ISPA Conference & Expo Innovate Session will be held on October 15 at 3:30 pm at Mandalay Bay Resort & Casino in Las Vegas, Nev., where a select group of award recipients will share their innovations with ISPA Conference attendees.
About Ojai Valley Inn & Spa
Since 1923, vacationing guests have sought the tranquil pleasures of the historic Ojai Valley Inn & Spa, a AAA Five Diamond property located on 220-tree shaded acres, located just an hour and a half north of Los Angeles and half-hour south of Santa Barbara. Affirmed by its many prestigious awards, the legendary Inn is one of the nation's unique hidden treasures. For reservations: 1-800-422-6524, or on the Internet: http://www.ojairesort.com
About the International SPA Association:
ISPA is recognized worldwide as the leading professional organization and voice of the spa industry. Founded in 1991, ISPA advances the spa industry by providing invaluable educational and networking opportunities, promoting the value of the spa experience and speaking as the authoritative voice to foster professionalism and growth. More details on ISPA are available on experienceispa.com.