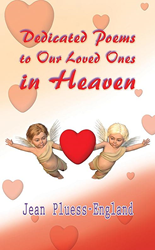 We must always remember that our loved ones never die, but always live on in our hearts.
(PRWEB) September 10, 2014
According to the author: "My inspiration for writing "Dedicated Poems to Our Loved Ones in Heaven" was due to my parents passing away suddenly. I had all these emotions going on and wanted to share the grief with others who have lost loved ones."
"I didn't feel grief straight away. Then all these poems started to come to me. It was like my parents were communicating to me to do it. My dad was so happy when I was going to get married that he bought me my dress. But he couldn't walk me down the aisle, as he passed away before the big day. My husband-to-be Tony and I decided to hold the wedding on my dad's birthday. My mum ended up giving me away with my sister Ann as my bridesmaid. We did not forget my dad that day and raised a glass to wish him a happy birthday and wish he was with us.
"We must always remember that our loved ones never die, but always live on in our hearts, and these poems do come directly from the heart. Please remember that you are never alone in grief."
About the Author
Jean Pluess-England was born in Durrington, Wiltshire, UK. This is her first book. "I would like to thank my sister Ann for all her encouragement in proceeding with this book, even though we were both going through a very difficult time. Ann is the best sister in the world."
Book Details
Genre: Poetry / Death
Author: Jean Pluess-England
Format: Paperback, 60 pages
Pub date: September 2014
"DEDICATED POEMS TO OUR LOVED ONES IN HEAVEN" (ISBN: 978-1-62857-515-6) is now available for $12.99 and can be ordered through the publisher's website:
http://sbprabooks.com/JeanPluessEngland, Amazon, or the website of Barnes and Noble.
WHOLESALERS: This book is distributed by Ingram Books and other wholesale distributors. Contact your representative with the ISBN for purchase. Wholesale purchase for retailers, universities, libraries, and other organizations is also available through the publisher; please email bookorder(at)sbpra(dot)net.
Strategic Book Publishing and Rights Co, LLC