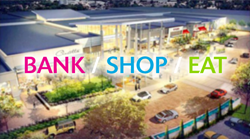 Suitland, Maryland (PRWEB) September 10, 2014
For 66 years now, Andrews Federal Credit Union has been delivering world-class member service and helping people improve the quality of their financial lives in Washington, DC, Maryland and New Jersey, as well as at military installations in Europe. Now, the $1 billion credit union is bringing the "future of financial services" to Virginia.
Coming this fall, Andrews Federal will be opening its newest branch location in Springfield, Virginia inside the Springfield Town Center which is currently under re-development. In addition to the branch location inside of the Town Center, five Andrews Federal ATMs will be located throughout the mall for added convenience.
"We are excited about the completion of this project and our expansion into Virginia," said Jim Hayes, President & CEO, Andrews Federal Credit Union. "This branch will feature innovative, state-of-the-art technology for our tech savvy members, business accounts and Spanish-speaking employees to serve the diverse community in Springfield."
Please visit the Andrews Federal website or Facebook page for photos of the branch's progression, as well as regular updates on the status of this project.
About Andrews Federal Credit Union
Andrews Federal Credit Union was founded in 1948 to serve the needs of military and civilian personnel by providing a vast array of financial products and services. With over $1 billion in assets, Andrews Federal has grown to serve more than 100,000 members in the District of Columbia, Joint Base Andrews (MD), Joint Base McGuire-Dix-Lakehurst (NJ), and military installations in central Germany, Belgium, and the Netherlands. In addition, the Credit Union serves as a financial partner with many select employee groups in Maryland, the District of Columbia, and New Jersey.
To learn more about Andrews Federal Credit Union and its community involvement, or to become a member, call 800.487.5500 or visit http://www.andrewsfcu.org.