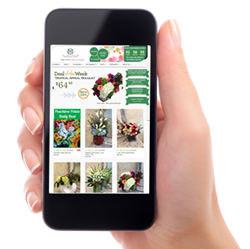 Los Angeles, CA (PRWEB) September 10, 2014
Peachtree Petals, a recognized leading floral provider, specializing in premium floral arrangements and floral services, announces its West Los Angeles store addition to its mobile app. The West Los Angeles florist makes the announcement in effort to market its' new floral shop, expand visibility of its' popular floral bouquets online and increase mobile floral sales growth. Peachtree Petals strives to be the best choice in high-quality and custom-designed floral arrangements in the West Los Angeles and surrounding Los Angeles areas.
The Peachtree Petals mobile application will automatically appear when visiting the Peachtree Petals website from any mobile device. The mobile app now includes the florist's new West Los Angeles location for customers within the area to use. The mobile app home page includes a rolling banner advertisement announcing the new floral shop. The app also includes featured products, search functionality, menu bar for additional site browsing, testimonials, contact us bar and more. Clients in California can view all of Peachtree Petals' premium bouquets and collections with descriptions also.
Just as the Atlanta location, Peachtree Petals West Los Angeles offers same-day delivery of its premium floral arrangements to all its' customers for only $13.99. This is the florist's standard delivery charge for all of the servicing areas. The florist also offers the option of next-day delivery for $11.99. All orders placed by 3pm, will be delivered the same-day, unless the customer has requested next-day delivery. From the best Hollywood flowers to the best Long Beach flowers, Peachtree Petals does it all.
Customers in the Los Angeles area can enjoy the same friendly, web experience as the Peachtree Petals full site. Placing an order is easy to use with their mobile app and fast for customers that need flowers on the go. The app offers the option to view the full site in desktop preference as well. Peachtree Petals will continue to keep pace with convenience and modern floral business trends in order to provide the highest level of customer satisfaction.
Peachtree Petals is a well-known leader of superior floral arrangements and a recognized Master Florist nationwide. From anniversary bouquets to new baby flowers, Peachtree Petals is able to meet all of your floral needs. Peachtree Petals services a growing list of clients, including company floral subscriptions and weekly floral services. The company offers a simple approach to the floral industry, most notably, same-day flower delivery of all their floral arrangements in the West Los Angeles and surrounding Los Angeles metro city areas.