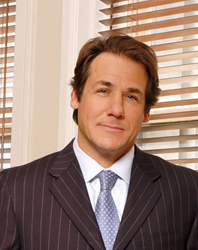 Jeff Korek has been selected by his peers and colleagues as a 2014 "Top Rated Lawyer" in the practice area of Litigation
New York, NY (PRWEB) September 10, 2014
Gersowitz, Libo & Korek, P.C., a New York-based law firm, has announced that senior partner Jeff Korek has been selected by his peers and colleagues as a 2014 "Top Rated Lawyer" in the practice area of Litigation. This is considered to be a singular honor for both Mr. Korek and the firm.
The Martindale-Hubbell Rating recognizes the best and most skilled attorneys practicing within specialized areas of law. The rating is the highest objective indicator of a lawyer's ethical standards and professional ability, generated from evaluations of lawyers by other members of the bar and the judiciary in the United States.
"It is an honor to be professionally recognized by my peers for my work in personal injury litigation and my dedication to my clients and profession," said Mr. Korek.
Mr. Korek is a partner at Gersowitz, Libo & Korek, P.C. His legal expertise is characterized by more than 25 years of experience and a history of successful litigation and settlements during his tenure at the firm.
About Gersowitz, Libo & Korek, P.C.
The New York City accident lawyers at Gersowitz, Libo Korek & P.C. have devoted the past 25 years to helping injured victims get the maximum compensation they deserve for the injuries they have suffered. These lawyers have the knowledge, experience and resources to successfully pursue all types of personal injury, construction, and medical negligence cases.
Serving the residents of New York and New Jersey, the accident lawyers at Gersowitz, Libo & Korek, P.C. are committed to the relentless pursuit of victims and their loved ones' rights. They urge anyone in need of assistance who has suffered a serious injury to immediately contact them.
Contact:
Jeff S. Korek
Gersowitz Libo & Korek, P.C.
jkorek(at)lawyertime(dot)com
(212) 385-4410