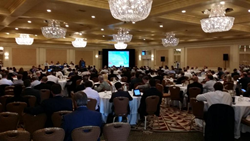 Chicago, IL (PRWEB) September 10, 2014
American Homeowner Preservation ("AHP") Founder and CEO Jorge Newbery chaired the SEC/FINRA & Selling Regulations panel this week at IMN's Crowdfunding Forum for Real Estate in Santa Monica, CA. The two-day conference concluded on Tuesday afternoon and was highlighted by a variety of panels such as Incorporating Equity & Debt Crowdfunding Structures into your Capital Stack, Attracting the Crowd in a Reg 506(c) Environment and Using Self Directed IRA & Pension Investment in a Crowdfunding Environment.
In leading the SEC/FINRA panel, Newbery was joined by Melanie Pennell-Mayer of Associated Ventures, Peter Shakow of Bird Marella PC, Melinda LeGaye of MGL Consulting, Jim Borzilleri of CrowdEngine, and Jillian Sidoti of Trowbridge Taylor Sidoti. Along with these panelists, Newbery discussed topics pertinent to the industry of crowdfunding including the JOBS Act, applicable regulations, SEC registration, Form D filings, investor suitability and the broker dealer affiliations with crowdfunding platforms.
The conference was designed to enhance the understanding of real estate developers and investors about the options available today for financing projects, such as crowdfunding. The conference welcomed nearly 50 speakers with varying backgrounds in the real estate and investing industries. Representatives from some of the country's leading real estate crowdfunding platforms were in attendance including AdaPia d'Errico of Patch of Land, Adam Hooper of RealCrowd and Jillien Helman of RealtyMogul.
Newbery helped lead AHP's transition from a more traditional hedge fund to online crowdfunding last September after title II of the JOBS Act was enacted, allowing companies to publicly advertise their investment opportunities. "IMN put together another tremendous conference this week and continues to facilitate the growth and enhancement of this young industry," Newbery said. "Less than a year after title II passed, dozens of crowdfunding platforms have carved out their place in the investment marketplace and represent the future of real estate capital raising."
American Homeowner Preservation is a socially responsible investment fund manager which empowers accredited investors to purchase equity in pools of distressed mortgages and earn returns of 9-12%. For further information or inquiries please visit https://ahpinvest.com or call 800-555-1055.