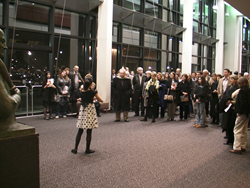 Wake Forest, NC (PRWEB) September 10, 2014
Tara Lynn, chair of the WCPE Education Fund, is pleased to announce a grant in the amount of $3,000 to the North Carolina Symphony in support of their pre-concert program Ovations. This partnership with the North Carolina Symphony helps to fund the 2014-15 season Ovations concert series, which provides young and aspiring musicians the chance to perform at Meymandi Concert Hall prior to symphony concerts. This educational opportunity is complemented with free tickets for the Ovations musicians to see the symphony. WCPE FM is proud to support the educational endeavors of the North Carolina Symphony and community artists in the Triangle area.
"The support of WCPE Radio is vital to our orchestra and is deeply appreciated," says Ellen Fort, director of Corporate and Foundation Giving. The grant of $3,000 will partially fund the $5,000 budget of this program for the entire year. Musicians from the Apex High Chamber Players, the Cary Youth Chorale, and the Community Music School are among the many ensembles which will participate in this season's pre-concert program. As a non-profit, listener-supported classical music radio station, WCPE fulfills its mission of promoting the arts in the area.
The WCPE Education Fund relies on donations from members of WCPE FM, as 10% of a member's donation is allocated in place of another thank-you gift. So far, it has helped four organizations this year in achieving their educational missions in the Triangle area through financial grants. Applications for grants from the WCPE Education Fund are due every year no later than March 31.
About North Carolina Symphony:
Founded in 1932, the North Carolina Symphony performs over 175 concerts annually to adults and school children in more than 50 North Carolina counties. An entity of the North Carolina Department of Cultural Resources, the orchestra employs 66 professional musicians, under the artistic leadership of music director and conductor Grant Llewellyn and resident conductor William Henry Curry. The North Carolina Symphony is proud to offer Ovations, a pre-concert performance opportunity for student and community groups. On Classical Series concert nights from 7:15 p.m. to 7:45 p.m., we invite advanced student musicians and community members to perform for North Carolina Symphony audiences. As groups are preparing for concerts and competitions, we would like to give them the opportunity to preview their chosen musical work.
About WCPE:
WCPE broadcasts on a variety of FM frequencies in eastern North Carolina and is heard throughout eastern and central North Carolina and southern Virginia from its transmitting tower in Wake Forest, NC, and other repeater stations. A live feed is available on the Internet at http://www.theclassicalstation.org, through cable systems, through affiliate radio stations, and via satellite. WCPE is a non-commercial, listener-supported station that plays classical music exclusively. WCPE is owned and operated by the Educational Information Corporation, a North Carolina non-profit broadcasting organization. The Corporation was formed in 1973 and began operating WCPE in July of 1978. The Corporation holds a federal 501 (C) (3) Public Charity Exemption Certificate and the corresponding certificate from the State of North Carolina.