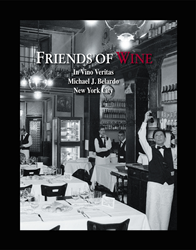 It's a crossover between art and life. In Vino Veritas is Latin meaning "in wine there is the truth."
(PRWEB) September 10, 2014
This stunning book of photography is dedicated to the winemakers of the world. "Friends of Wine: In Vino Veritas" represents Michael J. Belardo's personal collection of photographs taken through the years of people in and associated with the international wine business.
The pages denote the author's 28-year journey into wine, which came about almost by accident. He says, "Starting out in radio and music, I met many legendary rock photographers (Jim Marshall, Bob Seidemann) who inspired me to start taking pictures. I never thought I could do the same for wine. It became my mission to photograph these passionate and charismatic people who made wine. They live well, eat well, and drink well. Their commitment and dedication extends beyond business. It's a crossover between art and life." In Vino Veritas is the Latin phrase meaning "in wine [there is the] truth." For those who love wine, this lavish testimony to the beauty of the grape will be a treasure.
About the Author
Michael J. Belardo grew up in Connecticut, lived in San Francisco, and is now residing in New York City. A wine importer, he was inspired to write this book by the people he met along the wine trail.
Author's website: http://michaelbelardo.com
Book Details
Genre: PHOTOGRAPHY / Subjects & Themes / Portraits
Author: Michael J. Belardo
Format: Hardcover, 152 pages
Pub date: August 2014
"FRIENDS OF WINE: IN VINO VERITAS" (ISBN: 978-1-63135-438-0) is now available in hardcover for $53.95 or in softcover (978-1-62516-229-8) for $41.95 and can be ordered through the publisher's website: http://sbpra.com/MichaelJBelardo, Amazon, and the website of Barnes and Noble.
WHOLESALERS: This book is distributed by Ingram Books and other wholesale distributors. Contact your representative with the ISBN for purchase. Wholesale purchase for retailers, universities, libraries, and other organizations is also available through the publisher; please email bookorder(at)sbpra(dot)net.
Strategic Book Publishing and Rights Co, LLC