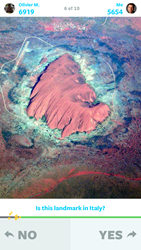 Are you a world trivia master?
New York, NY (PRWEB) September 11, 2014
TravelPop, the globe-trotting quiz game is now available on iPhone, iPad, and Facebook.
TravelPop puts players knowledge of world trivia to the test with hundreds of quizzes featuring over 30,000 beautiful photos. Players are quizzed on food, landmarks, culture, inventions, and more from 13 countries including China, Brazil, Australia, and Canada.
TravelPop is available on iPad, iPhone, and Facebook now: http://www.travelpop.net/play
As each photo pops up, quickly swipe or tap to answer. Answer quickly and correctly to win coins, level up, and unlock souvenirs (achievements). Challenge Facebook friends or match up with random opponents around the world!
TravelPop brings the quiz gameplay perfected in SongPop to a whole new audience. Learn more about the photos featured in the game with Wikipedia integration, and share your favorite photos on Facebook, Instagram, and more.
Key Features:

30,000 iconic photos spanning over 140 categories.
Quizzes from several of cities and countries including USA, Japan, Italy, Mexico, and more.
Available in 13 languages (French, Italian, German, Spanish, Dutch, Portuguese, Simplified Chinese, Korean, Japanese, Russian, Indonesian, Turkish and English).
Dozens of souvenirs (achievements) to unlock by completing challenges.
Connect with friends via Facebook or play against random players worldwide.
Review copies are available upon request.
About FreshPlanet
FreshPlanet is a game development studio based in the heart of NYC. With a leadership team with over 18 years of web, mobile and game experience, we are poised at the intersection of mobile, social, and pop culture. Our previous hits include SongPop and MoviePop.