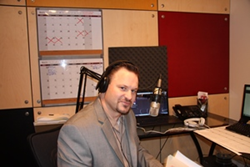 New York, NY (PRWEB) September 11, 2014
After being signed with a multi-million dollar contract with the Women's Radio Network, WRNW1, KC Armstrong's show "Keeping it Real" has been such a huge success; awarding him the top host of WRNW1. However, KC's fame does not stop there. On Tuesday, September 16, 2014 at 8 p.m. EST, KC Armstrong will launch his new show "KC After Dark".
Working alongside with co-host, Marcus Edwards, KC will be highlighting the top interviews from the week on his Monday through Friday show "Keeping it Real". On KC's daily show, he focuses on interviewing professional and women entrepreneurs through all their obstacles and struggles to be the successful women they are today. These women are a support system for fellow listeners all over the world to relate on their daily life struggles.
"KC After Dark" will not only highlight the top shows and educational pieces people have learned, but there will be some fun comic relief as well as reflecting on what's going on in the world today. KC and Marcus are extremely amped up and excited to start this new journey with WRNW1. Every Tuesday starting September 16, 2014 at 8 p.m. EST, "KC After Dark" will be airing. Be sure to listen in and get some good laughs, as well as a chance to call in and give your input on what's going on in the world as well feedback of the daily "Keeping it Real". WRNW1 will also be giving out a free iPad to the 50th caller. Please call (631) 319-1642 for a chance to win.
By educating women on a global networking platform, WRNW1 allows women to participate in online radio shows, online seminars, and special online events; to help empower other women and listeners to strive to the top. Be sure to visit http://www.wrnw1.com, where additional information on the WRNW1 can be found. To be a caller on "KC After Dark" with KC Armstrong and Marcus Edwards, please contact KC Armstrong at (631) 319-1642 or email at press(at)wrnw1(dot)com.