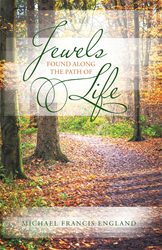 God chose the weak things of the world to confound the wise, so God can use you, whoever you are and whatever your condition or limitations may be
JAMAICA, N.Y. –
(PRWEB) September 11, 2014 -- When author Michael Francis England accepted Jesus Christ into his heart, he embarked on a new walk of faith. His new book "Jewels Found along the Path of Life" (published by WestBow Press) shares the joy, pain and wonder England experienced during the first 25 years of his saved life.
"Jewels Found along the Path of Life" features short stories chronicling England's varied encounters with God. After being born again at the age of 34, England vowed to free himself of sin and open his heart to God's love. His stories reveal how he was able to get to know God and begin his journey of spiritual growth.
England recounts the many blessings and wonders he experienced at God's hand as well as the obstacles he overcame. Though he was diagnosed with Charcot-Marie-Tooth disease, which caused atrophy in his limbs and forced him to wear leg braces so he could walk, England spent two years in India and Pakistan spreading God's word.
Through his new book, England aims to spread God's message and encourage readers, be they saints or sinners, to turn away from sin and embrace God.
"God chose the weak things of the world to confound the wise, so God can use you, whoever you are and whatever your condition or limitations may be," England says. "I am crippled physically and require braces on my legs to walk, but God sent me to the uttermost parts of the earth to share his love. All you need is an obedient, willing heart and he will use you."
"Jewels Found along the Path of Life"
By Michael Francis England
Hardcover | 5.5 x 8.5 in | 168 pages | ISBN 9781490837536
Softcover | 5.5 x 8.5 in | 168 pages | ISBN 9781490837529
E-Book | 168 pages | ISBN 9781490837512
Available at Amazon and Barnes & Noble
About the Author
Michael Francis England is an evangelist who has shared the gospel worldwide and spent two years as a missionary in India and Pakistan. He has a Master of Arts in religion, with majors in evangelism and church planting from Liberty University. He resides with his wife Dominique in Jamaica, New York.
###