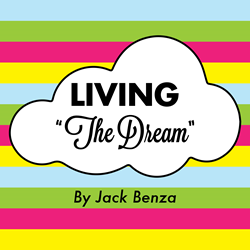 "Movie studios are looking for the next Frozen, Rio and Cars to entertain families and keep parents happily spending on all the memorabilia that goes with it. Living The Dream will easily meet those expectations.
Los Angeles, California (PRWEB) September 10, 2014
The audio book for Living "The Dream" is now available on Audible.com with a sample and the written story is available on Amazon.com.
Living "The Dream" is a story about the lifestyle of Dreams, which are actual beings that resemble clouds and live in the Dream World. Dreams audition every night for their dreamers by morphing into different images with the sole purpose of "coming true". When our hero, Puff, is formed he questions his very existence. Part of his Dream Team includes Pinky Stratus, a mentor, who tries to explain to Puff that being a Dream provides hope for the humans. Also Mammatus Red, a Dream cloud who sees things differently and eventually tries to persuade Puff into breaking one of the rules NEVER become a Mare, or "Bad Dream".
Jack Benza has appeared in over 45 different Reality/Game shows and is the author of two books So You Wannabe on Reality TV and Dudes Change Your Ways in 90 days. Benza is represented by Firestarter Entertainment. To make an appointment or find out more info email his agent Nicole Dernersian Nicole(at)Firestarterentertainment(dot)com or call 213-531-0547. Extension 701.