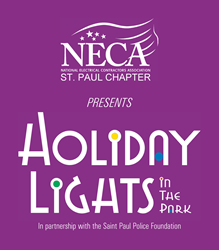 This is a great way to celebrate the holiday season by bringing thousands of people into our community.
St. Paul, MN (PRWEB) September 10, 2014
The St. Paul Chapter of the National Electrical Contractors Association (NECA) and the St. Paul Police Foundation announced today at a press conference featuring St. Paul Mayor Chris Coleman and St. Paul Police Chief Tom Smith, plans for the seventh annual Holiday Lights in the Park. The Midwest's largest outdoor holiday light display, Holiday Lights in the Park will run nightly from 5:30 to 10 p.m. November 25 to January 1, 2015.
This year's edition of Holiday Lights in the Park will be the biggest and best it has ever been, featuring more than 60 light displays, all visible from the friendly and warm confines of visitor's vehicles. At the press conference Coleman and Smith spoke to the fact Holiday Lights is one of the city's most visible philanthropic community events. The two city leaders spoke about how Holiday Lights supports the St. Paul Police Department with additional training and safety equipment and the Foundation's community partners who also serve the residents of St. Paul.
"Holiday Lights is not only a destination for those who love creative holiday light displays, but it is contributing financially to the people in our community," said Mayor Coleman. "Phalen Park is the perfect venue backdrop for this annual family tradition that brings people into our city, creates a sense of vibrancy and supports the organizations striving to make a difference."
In addition to the title sponsors, NECA and the St. Paul Police Foundation, it was also announced that St. Paul-based Ecolab and Treasure Island Resort & Casino are onboard as sponsors of Holiday Lights in Park for 2014.
"This is a great way to celebrate the holiday season by bringing thousands of people into our community and our city each night to enjoy the Holiday Lights," said Chief Smith. "We hope visitors that come to this event see not only a great light display, but a safe and friendly community they want to return to. With each car that passes through our officers will be supported through the tireless work and generosity of the St. Paul Police Foundation."
Holiday Lights will offer several special themed nights this year as well that include:
--Tuesday, December 2– Military Night: Active military members and veterans get a free admission with a Military ID shown at the gate.
--Wednesday, December 3, Saturday, December 20, and Sunday, Dec 21 – Minnesota Wild Nights: All visitors with a ticket stub or proof of attendance via the Wild's seat locator app from the above 6 p.m. start Minnesota Wild games will receive a $5 discount on their Holiday Lights in the Park admission for any night the park is open.
--Wednesday, December 17 – Winter Carnival Night: Any vehicle with a Winter Carnival Button is eligible for a $5 discount on admission on this night only.
--Sunday, December 21 – St Paul Police and Families Appreciation Night: All active or retired SPPD will get free admission with a valid badge or ID.
--Tuesday, December 30 – Light up Lake Phalen Neighborhood Night: Contest winners will be announced and prizes presented.
It was also announced today that two staples of this fund raising initiative will continue to accompany this popular holiday tradition. Holiday Lights Vol. 6, the CD soundtrack of Holiday Lights returns with its best lineup yet of local artists singing traditional and original holiday tunes.  Among the artists featured on the CD are Nicholas David (Season 3 finalist on NBC's The Voice), Alison Scott, Mick Sterling, The Blenders, Chris Koza, Redpath, Jennifer Grimm, Eric Gordon and Holiday Lights Entertainment Director Phil Thompson.
"We are excited for this year's edition of the album," said Thompson. "It takes a lot of coordination to accomplish, but because of the generosity of these artists we are able to produce a product that will be the perfect stocking stuffer.  This CD has sold out all five previous years so my recommendation is to buy it early before it's gone."
The CD will go on sale for $10 on November 11 at all Kowalski's Markets locations.  Each CD contains a voucher for one free admission to Holiday Lights in the Park, a $10 value. In addition, the CD will be available for purchase at Phalen Park for just $5 with a paid entrance to Holiday Lights. And for the first time in its history, the CD will be available for download on iTunes.  
In addition to the album, a special one-night concert event will take place at the Fitzgerald Theatre on Saturday, December 6th at 7 p.m. and will feature Nicholas David as the headliner.  Additionally, several of the artists from this year's CD will be opening for Nicholas who will include Alison Scott and Eric Gordon.  
"We're beyond excited to host this concert with Nicholas David, on St. Nicholas Day no less," said Thompson. "This concert is always well attended and given it's the only holiday concert for Nicholas David this year, I wouldn't be surprised to see it sell out.  Definitely get your tickets early."
Tickets to the Nicholas David concert go on sale October 6 at 10 a.m. at http://www.fitzgeraldtheater.org.
About Holiday Lights:
Holiday Lights in the Park is a joint venture of the St. Paul Chapter of the National Electrical Contractors Association (NECA) and the St. Paul Police Foundation with the sole purpose of creating fun and affordable holiday events that raise funds to help meet basic life needs for children and adults in the Twin Cities metro area. All of the net proceeds of the event will be distributed to Union Gospel Mission, the Saint Paul Police Foundation, and the Saint Paul Parks Conservancy. To date, Holiday Lights in the Park has raised more than $336,000 to support local non-profit organizations that support the residents of the Twin Cities. Holiday Lights in the Park is open nightly from November 25 - January 1, 2015 at St. Paul's Phalen Park. For the cost of $10 per vehicle, visitors will experience a program of more than 60 larger-than-life holiday light sculptures and animated displays from the comfort of their vehicles as they cruise through the park in the evening hours. To purchase tickets you can visit our website: http://www.saintpaulpolicefoundation.com/, or for more information you can find us on Facebook: https://www.facebook.com/stpaulpolicefoundation or follow us on Twitter: https://twitter.com/StPaulPoliceFdn
                                                                                                         
CONTACTS:
 
Robb Leer, media liaison Holiday Lights in the Park
612.701.0608 Robbl(at)leercommunication(dot)com  
Kate Kelly, executive director Saint Paul Police Foundation
651.792.5082 Kate(dot)kelly(at)saintpaulpolicefoundation(dot)com
 
                                    
 
 
###