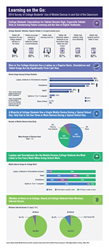 New York, NY (PRWEB) September 10, 2014
The vast majority of today's college students agree that tablets will transform the way college students learn in the future (81 percent) and will encourage students to buy digital textbooks instead of print (82 percent), according to a new study conducted by Harris Poll, released today on behalf of Pearson. A large majority (74 percent) said that tablets make learning more fun.
The survey was conducted online by Harris Poll on behalf of Pearson between February 13 and March 12, 2014. The respondents were 1,228 U.S. college students, ranging between the ages of 18 and 30, who were enrolled at a 2-year college, 4-year college, university, or graduate school. The survey results were weighted to be representative of the U.S. college student population. The Pearson college student survey is part of a larger study that also included U.S. 4th through 12th graders.
Though tablets are very popular among college students, fewer than half regularly use a tablet (45 percent), and only about one in 10 students (11 percent) regularly use a "hybrid." The vast majority (89 percent) of today's college students use a laptop on a regular basis, and 83 percent use a smartphone regularly.
"After four years of conducting this study, we have learned valuable lessons from students on how they use, and want to use, technology for learning," said Seth Reichlin, Senior Vice President of Market Research for Pearson Higher Education. "College students have high expectations for tablets to transform learning, but our findings show that laptops are still the most commonly used device for school work."
Other findings from the 2014 Student Mobile Device Survey include:

A majority of college students use a single mobile device during a typical school day (54 percent)
Only one in 10 students (nine percent) uses three or more devices during a typical school day
Laptops and smartphones are the mobile devices college students are most likely to use every week when doing school work (89 percent and 56 percent, respectively)
One in three students (33 percent) use a tablet for school work on a weekly basis
Nearly all college students have wireless Internet access at home (96 percent) or at school (91 percent)
The 2014 Student Mobile Device Survey was conducted to better understand how college students use mobile technology for learning. The market for tablets, smartphones, and other mobile devices has grown dramatically in the past few years. These mobile devices have the potential to transform learning and to impact the delivery of course materials. The survey covered current ownership and usage of mobile devices by college students, how college students currently use mobile devices for school work, how they expect to use them going forward, and students' attitudes about using mobile devices for learning.
To download the full 2014 Student Mobile Device Survey, please visit this website.
Researchers interested in the detailed data and tabulations should contact brandon.pinette(at)pearson(dot)com
About Pearson
Pearson is the world's leading learning company, with 40,000 employees in more than 80 countries working to help people of all ages to make measurable progress in their lives through learning. For more information about Pearson, visit http://www.pearson.com.
Media Contact: Brandon Pinette, brandon.pinette(at)pearson(dot)com or 800-745-8489
About Nielsen & The Harris Poll
On February 3, 2014, Nielsen acquired Harris Interactive and The Harris Poll. Nielsen Holdings N.V. is a global information and measurement company with leading market positions in marketing and consumer information, television and other media measurement, online intelligence and mobile measurement. Nielsen has a presence in approximately 100 countries, with headquarters in New York, USA and Diemen, the Netherlands. For more information, visit http://www.nielsen.com.