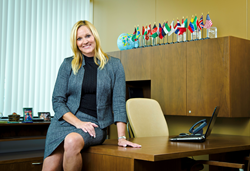 "Twenty years ago the Violence Against Women Act of 1994 became a federal law, but there is still so much that needs to be done to show the world that we will not tolerate this behavior," said Lori Blaker
Rochester Hills, Michigan (PRWEB) September 13, 2014
"The recent suspension of Baltimore Ravens running back Ray Rice for allegedly knocking his then fiancee out cold in an elevator is a tiny step in the right direction but way too little, and way too late," Blaker told the group. "I think it's a tragedy that video tape had to be released before the NFL took stronger action." Violence of this type isn't just confined to less developed countries. It happens in our own neighborhoods every single day. It's time that these stories are brought to light so we can begin addressing the problem and developing support and solutions."
Blaker, a business leader in the Metro Detroit area has spoken out repeatedly in opposition to violence against women and children. She has long been a champion of women's rights and a strong advocate of gender equality and the empowerment of women in the workplace. It was because of her commitment to these principles that she formed the Metro Detroit Chapter of US National Committee for UN Women in the fall of 2013 and is acting as the chapter's first president,
The Metro Detroit Chapter works on a local level to build awareness of the UN Women's efforts for the elimination of discrimination and violence against women and girls; empowerment of women; and achievement of equality between women and men as partners and beneficiaries of development, human rights, humanitarian action and peace and security.
The organization has planned a number of events to build awareness for the need to stop violence toward women, including a men's night fundraiser at the Aston Martin Dealership in Troy, and a Human Trafficking press conference, scheduled prior to the opening of the North American International Auto Show in Detroit, January 2015.
Members are also encouraged to wear orange on the 25th day of each month to show their support for Orange Day, an international day of recognition to convey the message that violence against women and girls can never be tolerated.
Lori Blaker is the President and CEO of TTi Global, a leader in providing staffing, learning, research and consulting solutions to industries across various sectors with automotive as a core focus. TTi Global oversees operations on five continents with offices spanning the globe, which include Australia, Brazil, Canada, Chile, China, India, Japan, Mexico, Peru, South Africa, Thailand, Venezuela, UK and most recently Afghanistan.
TTi Global has ranked consistently among the "Top 25 Woman-Run Businesses in the USA" as recognized by the Women's President's Organization. Blaker heads of one of the fastest growing women-led organizations in North America. Her leadership skills continue to be recognized by the business community. In 2012 President/CEO Lori Blaker received the "Leader of Leaders" Award from Leadership Oakland.