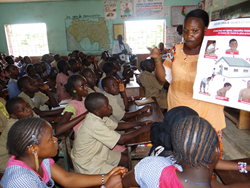 Canada (PRWEB) September 09, 2014
Global children's development agency Plan International and International Medical Corps, a leader in global health and emergency response, have joined forces to respond to Ebola, the deadly virus spreading rapidly across Liberia, Guinea and Sierra Leone and moving into other parts of West Africa.
This new partnership is a unique initiative in the fight against Ebola with the two humanitarian organizations coming together to provide a comprehensive package of services. Their combined efforts are aimed at preventing the spread of Ebola and reducing the number of deaths.
Each organization brings complementary strengths and skills to the partnership. International Medical Corps' mission is to improve quality of life through health interventions that strengthen local capacity in underserved communities worldwide, whilst Plan has been working with children for over 77 years bringing expertise in child protection, water, hygiene and sanitation and community involvement.
Working together for better impact
Working jointly, Plan and International Medical Corps have developed a nine-point response plan to address immediate short-term needs and long-term requirements. The response plan covers prevention, case management, psychological first aid, child protection and other lifesaving measures. The nine areas have been identified based on the needs and priorities that have emerged in the current outbreak.
To support the global efforts around strengthening health workforce capacity and preparedness, the two organizations are also in discussions to provide training for regional health professionals and first responders in preparedness, response and infection control at training centres in West Africa.
This response plan is being implemented in a phased approach, with International Medical Corps initially focusing on case management and treatment of Ebola cases while Plan focuses on community mobilization and public health awareness. As these programs are established, joint activities will be tailored to address the emerging needs.
International Medical Corps and Plan will work very closely with local Ministries of Health, community organizations, Centers for Disease Control and Prevention, World Health Organization and other relevant humanitarian and health agencies. Much needed support, in the form of technical specialists and human resources, is also expected to be mobilized through this unique collaboration.
Notes to Editors
The nine key areas where Plan International and International Medical Corps will be working together are:

Public health awareness messages on preventing the spread of Ebola and reducing the risk of infection. These messages will be on the radio, TV, via mobile phone text messaging and posters in offices, schools and public areas. Clean delivery kits for pregnant women will also be delivered for those women who are unable to give birth in a safe, hygienic facility.
Case management, care and treatment for infected and vulnerable children and adults by providing Ebola case management services and establishing linkages with Ebola testing and referral systems for primary health care services.
Training in infection control and community outreach for all workers involved in working with infected or potentially infected people.
Psychosocial and mental health support for children and adults who have been infected, their families, affected communities and health workers
Care for those providing care, including family care givers and health workers.
Advanced training and preparedness for those who are to be deployed from the government, humanitarian and health agencies.
Additional training and awareness raising on child protection in emergencies for those in government ministries, the armed forces and health workers amongst others.
Procurement and distribution of food, food vouchers and non-food items such as hygiene kits; emergency food distribution; and supplementary feeding for babies and young children at risk from malnutrition.
Response to children who have been separated from their families and those at risk of separation. Initiatives will include training government and health workers in how to identify children who have been separated from their families or orphaned or are in need of special protection.
About Plan and the Because I am a Girl initiative
Founded in 1937, Plan is one of the world's oldest and largest international development agencies, working in partnership with millions of people around the world to end global poverty. Not for profit, independent and inclusive of all faiths and cultures, Plan has only one agenda: to improve the lives of children. Because I am a Girl is Plan's global initiative to end gender inequality, promote girls' rights and lift millions of girls – and everyone around them – out of poverty. Visit plancanada.ca and becauseiamagirl.ca for more information.