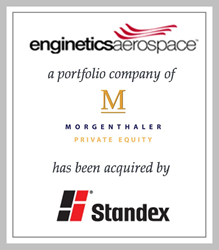 Charlotte, NC (PRWEB) September 16, 2014
BlackArch Partners is pleased to announce the sale of Enginetics Corporation, a portfolio company of Morgenthaler Private Equity, to Standex International Corporation. Enginetics is a leading producer of complex, 3-D formed components and formed and welded assemblies for the most prolific next-generation commercial aircraft engine platforms in the industry, including GE Aviation's LEAPx and GEnx, and Pratt & Whitney's geared turbofan platforms.
BlackArch was retained by MPE and Enginetics to serve as the exclusive financial advisor on the transaction.
"We're very excited about our future growth with Standex and we are thrilled to join their platform. Both companies have developed their own niches around sheet metal forming which are very complementary," said Wim Huijs, CEO of Enginetics. "Enginetics chose BlackArch based on their deep industry experience, knowledge of the relevant buyers and tailored approach to the transaction process. They did an excellent job from start to finish; we appreciate their hard work and attention to detail."
"BlackArch's strong expertise and relationships within the aerospace and defense sector combined with true senior level attention delivered an excellent outcome for Enginetics' shareholders," said Joe Machado, Partner at MPE.
Enginetics adds to a long list of noteworthy aerospace clients served by BlackArch professionals, and represents the fifth completed aerospace transaction in the past eighteen months for BlackArch's aerospace and defense practice.
About Enginetics
Enginetics Corporation (http://www.enginetics.com), founded in 1976 and headquartered in Huber Heights, OH, produces 3-D formed components for the commercial aviation market through well-developed technical processes that have led to strong customer relationships and a number of long term agreements. Enginetics has continuously demonstrated its expertise in complex metal forming processes, engineering services and new product introduction.
About BlackArch Partners
BlackArch Partners is a leading middle-market investment bank offering a full spectrum of advisory services to financial sponsors, private companies and diversified corporations. BlackArch addresses the needs of entrepreneurs, founders and shareholders of private companies with specialized services that include M&A advisory, strategic advisory and private capital solutions. Headquartered in Charlotte, NC, with offices in Houston, TX, BlackArch features a total of 12 industry-focused practices that cover all sectors of interest to middle-market investors; BlackArch professionals have closed over 300 transactions in 16 countries on four continents. Please visit our website, http://www.blackarchpartners.com, for more details.
Securities offered through BlackArch Securities LLC. Member FINRA and SIPC. Testimonials may not be representative of the experience of all clients. Testimonials are not a guarantee of future performance or success.