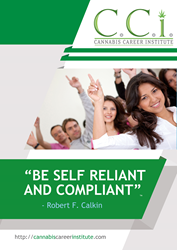 California and Nevada residents need good marijuana business education and CCI provides that education...
Los Angeles, CA and Las Vegas, NV (PRWEB) September 09, 2014
Cannabis Education and Business Training is coming to Los Angeles, California, and Las Vegas, Nevada, this weekend, offering entrepreneurs the chance to become educated in the Marijuana Industry.
California residents have stepped up the cannabis game by a large group in 2013 and 2014, with 55% in Field Polls of surveyed participants in favor of legalization. In California, cannabis businesses are already in operation, and the potential for more entrepreneurs to start up a new operation in the industry is available.
Nevada residents are also newly entering the cannabis industry and there has been a surge of new cannabis business operations. Education is greatly needed to help those businesses succeed. Las Vegas only recently approved medical marijuana in 2013.
Planning a marijuana industry business takes more than just having marijuana product itself, in fact, it requires more than just opening up a regular business within any industry. A wide range of knowledge is needed to create an infrastructure, obtain products legally, to sell those same products legally and understand what is needed to ensure patient safety. Cannabis Career Institute provides these details to students and will be offering California and Nevada residents multiple seminars this coming up weekend in Los Angeles and Las Vegas. The Los Angeles, California class is on Saturday, September 13th and will be held at the Universal Hilton, Universal Drive, Los Angeles. The Las Vegas, Nevada class is on Sunday, September 14th and will be at the Hilton Garden Inn.
All classes start at 9:00 a.m. and go until 7:00 p.m. with an hour break for lunch. Classes are educational in nature and business attire is suggested. Attending students will learn various pieces of the Cannabis Industry during the all-day long seminar, which provides information to students on how to open up a medical marijuana dispensary, an edibles operation, a grow operation or a marijuana delivery service. The class is organized into sections that help students understand compliance, understand business structure, how to professionally grow marijuana in legalized states and much more.
Cannabis Career Institute provides students the knowledge they need to get started in the newest and most important industry to emerge out of this century. Each class provides an amazing networking opportunity for students to connect with other interested people, from vendors to investors, while giving them the framework with which to start their path into the medical marijuana industry. Focusing on job descriptions and details provides students the ability to understand that each business operation is much more than just a simple set up. Attorneys speaking at the classes provide current legal information, while giving students the ability to focus on much needed prompting from industry experts. NORML often provides detailed information and at every class there are even opportunities for returning or successful students to share their own stories with new students.
Cannabis Career Institute has become the Nation's leaders in providing information about the marijuana industry to students. Each class focuses on specific topics, specific guidelines and various experts speak at each location, giving new and returning students excellent knowledge with which to create their own plans and business structure. Every class spends time on focusing on specific sections of the industry to help entrepreneurs learn what it will take to get into a business within the cannabis industry. Each class is uniquely taught by various instructors, with various experience and expertise to teach the full spectrum of this newly emerging market. Whether students are getting involved to earn wealth or simply help those in need of medical cannabis, attendees can expect to learn something new - while having the ability to network and communicate with others inside the industry.
Cannabis Career Institute has been given glowing reports by impartial media critics who have studied the classroom structure and curriculum. (WFTV, Greg Warmouth, Videos, Central Florida Spotlight, March 2014, http://www.wftv.com/videos/news/cannabis-career-institute-central-florida/vCTKKr)
With The House of Representatives passing an amendment recently, effectively restricting the DEA from doing raids on medical marijuana business operations, in states where medical marijuana has been made legal, (Steve Benen, Rachel Maddow Show, House votes to restrict DEA marijuana raids, June 30, 2014, MSNBC) an increased amount of interest in opening up a cannabis industry business has prompted CCI to bring more classes to more stattes across the nation.
Students are advised to bring plenty of excitement, energy and something to help them take notes with - classes are very extensive in knowledge. Media packages are available, reporters are welcome to attend the class on a special basis. Press Passes are available to media representatives who request them ahead of time and interviews can be provided upon pre-approved requests. For more Media Information, please contact Meki Cox at meki(at)cannabiscareerinstitute(dot)com to request a press pass or call 1-800-753-2240 for more information.