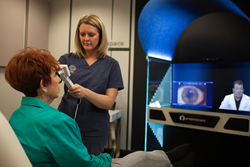 Washington, D.C. (PRWEB) September 11, 2014
Columbus, Ohio based Optimized Care Network (OCN) is one of only 90 startup companies nationwide to be selected to participate in The Hive at TEDMED 2014 in Washington, D.C. from Sept. 10-12.
"TEDMED is delighted to welcome this year's selection of leading startups and entrepreneurs to The Hive, where we will be showcasing the most exciting innovations in health and medicine," said TEDMED COO and Partner Shirley Bergin. "All participants of The Hive will help drive TEDMED's ongoing conversation about the best ways to accelerate medical progress and create a healthier life worldwide."
The Hive is an exclusive, annual event that invites innovators and entrepreneurs focused on transforming a healthier future. Selected from hundreds of applications and nominations, OCN will join other health care leaders in the TEDMED 2014 delegation, where they can showcase their own innovations and explore the transformative ideas of the experts around them. OCN will be sharing their digitally personalized technology, a two-way video system that provides patients direct access to specialists in remote locations.
"We are thrilled to show how our service makes it easier than ever for patients to connect with the most qualified medical expert to treat them no matter where that expert is located," said Brian Slusser, CEO of Optimized Care Network. "The Optimized CareSpace takes digital health care to the next level by personalizing it. You meet with a nurse, look your doctor in the eye via our exclusive video technology, and you can even see the medical images your doctor sees, giving patients a complete view of their health care."
To download high resolution photos and see a video of OCN's CareSpace technology, visit: http://bit.ly/ZaSypy
About the Optimized Care Network:
The Optimized Care Network (OCN) is a leading provider of digital health care that merges high tech with high touch. OCN's one-of-a-kind technology enables medical providers to digitally connect with patients in a life-like manner that is changing the delivery of medicine via non-traditional sites of care. Their highly equipped digital exam room, which includes a specially trained nurse, is the 21st century model for digital health care with a personal touch. To learn more about OCN, visit: http://www.optimizedcare.net
About TEDMED:
TEDMED is the annual multi-disciplinary gathering where leaders from all sectors of society come together to explore the promise of technology and potential of human achievement in health and medicine. Bringing together doctors, patients, policymakers, technologists, educators, students, media, researchers, innovators, and many others, TEDMED shares and celebrates the best of what the world has to offer in health and medicine.
About The Hive:
At TEDMED 2014, the focus on entrepreneurship and innovation is embodied in The Hive, an informal social environment featuring the innovative ideas that can transform health and medicine. The Hive spotlights innovations across the healthcare landscape from biotech and life sciences, health IT, mobile and digital health and more. For a complete list of companies, please visit: http://www.tedmed.com/event/the-hive
###