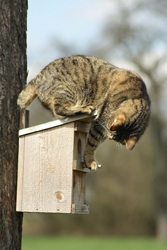 Wildlife in the Western Hemisphere did not evolve in the presence of a small, abundant predator like the domestic cat, and thus did not develop defenses against them.
Chicago, IL (PRWEB) September 10, 2014
On September 9, the Smithsonian Institute wrote a story on "The State of the Birds 2014," discussing ways people can help protect endangered species of birds. One of these tactics is for people to simply keep domesticated cats indoors. Bird-X explains why this is not only greatly beneficial to endangered bird populations, but also to cats.
Cats are a natural predator of birds; however in the United States this is most unnatural to the local ecosystem. Cats Indoors, a collective of the American Humane Society and American Bird Conservancy say, "Wildlife in the Western Hemisphere did not evolve in the presence of a small, abundant predator like the domestic cat, and thus did not develop defenses against them. Cats were introduced in North America by European immigrants only a few hundred years ago."
When cats hunt in areas populated by humans, they are subject to many dangers.
Birds, mice, rats, and many other kinds of wildlife are often poisoned by humans trying to keep them out of their homes; the EPA is working to ban a variety of these poisons, however they currently remain on shelves. Cats and other prey animals get poisoned themselves when they consume a sickened, easily-caught prey animals, the result of which is an extremely painful decline. This is a common cause of death for domesticated cats. Many natural pest deterrents such as garlic, onion, bleach, and other homemade pesticides are also very toxic to cats. Mouse and rat traps also regularly harm curious cats, as can the outdoor traps left by hunters.
Disease and parasites are carried by birds, Cats Indoors explain; worms, fleas, ticks, mites are very common, while diseases such as distemper, feline leukemia, rabies, and FIV are also common, and vaccines do not prevent these with 100% efficacy. When cats touch and eat birds, they are exposed to anything transmissible; birds carry over 60 human-transmissible diseases as well as over 50 kinds of ectoparasites, internal parasites, funguses, and bacteria such as E. Coli and Salmonella (source: bird-x.com). Outdoor cats can then easily expose humans to these elements when they are contacted or brought inside, resulting in infestations such as fleas, ticks, bed bugs, lice, and a myriad of other health and safety hazards.
In addition to the risks birds and pest animals carry, Cats Inside stress, outdoor cats are also subject to being hurt or killed by cars (millions of cats are hit by cars every year), exposed to poisonous plants common in gardens, such as lilies, directly harmed by humans, or attacked by wild animals like coyotes, foxes, raccoons, dogs, and more.
If cats insist on going outside, providing them with a screened-in outdoor area, such as a DIY or professionally-installed netted porch (or "catio" as Jackson Galaxy describes them on his "Catification" webpage) will give these cats that opportunity while keeping them safe from outdoor dangers. These structures can easily be created with existing building overhangs, around already-enclosed porches and balconies, or tacked inside of gazebos or open sheds. Many people get creative with their structures, using building steps and climbing structures to both beautify their outdoor areas and to give cats more vertical and horizontal space.
Bird netting may prove more durable than regular screen netting for cats that enjoy scratching or tearing open traditional screen doors, and provides protection from birds, bats, squirrels, and rats, as well as bigger animals like coyotes and raccoons. As an additional bonus, it will keep any plants enclosed within the structure safe from being eaten by pest animals; just make sure the plants are cat-safe!
Finally, keeping cats indoors protects bird populations, including songbirds and America's endangered species. "Scientists estimate that cats kill hundreds of millions of birds each year and three times as many small mammals," says Cats Indoors. By working to preserve bird populations, the ecosystem is kept in better balance, leaving birds free to thrive on pesky insect populations and more native food sources for predator animals.
By keeping cats safe and happy indoors, owners can rest easier knowing their cats are safe from the many outdoor risks, and know their environment is not being negatively impacted by their non-native cat's natural hunting instincts. Perhaps best of all, indoor cats themselves live longer, happier, healthier lives.
Bird-X, Inc. is the leading international brand of humane bird and pest control products since 1964, and is dedicated to protecting human health, wildlife and the environment in which we all live. The Chicago-based company manufactures a complete line of unique pest control products with an unmatched focus on quality, efficacy, and customer service.