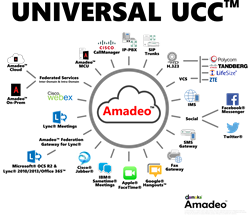 AmLy Federation Gatway is available on all flavors of Linux operating system
RICHARDSON, Texas (PRWEB) September 10, 2014
Damaka®, a technology pioneer in Unified Communications and Collaboration (UCC), today announced the next wave of disruptive technologies & service offerings in the UCC space – the AmLy™ Federation Gateway for Microsoft® Lync®. With AmLy, users of Damaka's Amadeo UCC platform can natively federate to communicate and collaborate with their Microsoft Lync contacts seamlessly. This innovation expands the universe of possibilities for Amadeo and Lync users across multiple enterprises.
The AmLy solution can also be used by any UC/UCC vendor that needs to federate with Lync. Damaka offers integration/interop guidelines for federating with Lync as part of the AmLy Integration Kit. This can be used by any system to federate presence, instant messaging, audio/video, collaboration, conferencing capabilities with Lync.
AmLy Federation Gatway is available on all flavors of Linux operating system.
Amadeo is a fully configurable, software-only on-premise and cloud solution. It requires limited resources with smooth automated integration and an easy deployment process. Customers can quickly sign up and start communicating and collaborating in minutes.
Amadeo is a true integration of all communication and collaboration technologies into a single unified platform; no more multiple vendors and systems for voice, PBX, messaging, video, online meetings and more. Amadeo solution is available across all major devices and operating systems based on a flexible hybrid architecture that extends UCC functionality to the new devices of tomorrow.
About Damaka, Inc.
Damaka® is a leading innovator in the Mobile UCC space and is the leading provider of Universal UCC™ SDKs available on the market today. The company embodies its mantra of communication and collaboration on "any device, any network, anytime, anywhere" by providing secure, real-time native video calling and collaboration solutions on all major smartphones, tablets and PC/Mac/Linux platforms. Damaka continues to leap forward in evolving Unified Communications and Collaboration (UCC) by delivering Universal UCC™. The technology in the Amadeo UCC solution will connect and interoperate with all existing major UC/UCC solutions such as Microsoft® Lync®, Cisco® Jabber®/WebEx®, IBM® Sametime®, Apple® FaceTime®, and Google™ Hangouts™. Damaka's patented "managed peer-to-peer SIP" based software solutions feature SmartShare™/TabShare™, Parallel Edits™, Federated services across Amadeo on-prem and cloud deployments, and Sweeping®, which allows users to seamlessly transfer in-progress collaboration sessions to and from various devices including laptops, tablets and smartphones. Damaka is headquartered in Richardson, Texas, and has a strong patent portfolio. For more information on Damaka and its solution portfolio, please visit (http://damaka.com).
Contact: Mrinal Rao
(972) 850-3002
support(at)damaka(dot)net