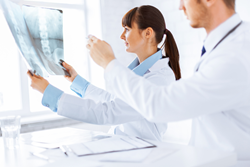 RBMA brings a real-world, practical perspective when commenting to CMS drawing from member information, expert input, and insight from industry
Fairfax, VA (PRWEB) September 10, 2014
In a comment letter on the Centers for Medicare & Medicaid Services' (CMS) proposed rule for the 2015 Medicare Physician Fee Schedule (MPFS), the Radiology Business Management Association (RBMA) leverages the most current practice management business data provided by its members to proactively and positively inform CMS about potential issues with parts of the proposed rule that could impact imaging centers ability to provide Medicare beneficiaries with access to timely and convenient high-quality medical imaging services.
Among the RBMA's concerns with the MPFS proposed rule are potential underestimates of equipment maintenance costs for diagnostic imaging (especially mammography) and non-physician malpractice premiums. It also raised concerns about the agency's planned transition from film to digital imaging and the continued lack of transparency around how CMS calculated the appropriateness of the multiple procedure payment reduction (MPPR) policy for the professional component (PC) of imaging. Under the Protecting Access to Medicare Act (PAMA) of 2014, CMS is required to make its data and assumptions underlying the MPPR-PC public.
"RBMA brings a real-world, practical perspective when commenting to CMS drawing from member information, expert input, and insight from industry," said RBMA Executive Director Michael R. Mabry. "Its members are acutely aware of the financial impact proposed payment policy and rates have on a radiology practice or imaging center. Thanks to our dedicated members and industry partners, RBMA is able to gather objective data and feedback in comparison to the agency's estimates or projections. Our ability to provide real-world information raises RBMA's profile and relationship with CMS and other policymakers."
In its comment letter, RBMA:

Provides CMS with current information on the maintenance costs (as a percentage of purchase price) of diagnostic imaging equipment. RBMA recommended that the maintenance factor for diagnostic imaging equipment (except mammography) be 10 percent and 15 percent for mammography. CMS' maintenance factor is only 5 percent currently.
Recommends that CMS use a non-physician malpractice premium estimate of $10,489 for calculating the malpractice practice relative values for technical component services. CMS' estimate was $7,408.
Calls for the restoration of film-related supplies and equipment scheduled for deletion as part of CMS' planned transition from film to digital imaging. While supportive of the agency's move to digital imaging in the MPFS, RBMA asked for a one-year delay in order to work with CMS, the American College of Radiology (ACR), and other stakeholders on a comprehensive approach. CMS' proxy for digital imaging technology was non-physician clinical labor time on a desktop workstation. Some radiology procedures would have seen technical component payment cuts in excess of 10 percent based on replacing film-related supplies and equipment with a desktop workstation.
Supports payment for secondary interpretations, but identified the need for a comprehensive policy before its implementation.
Opposes the deletion of the G-codes for digital mammography
Calls upon CMS to release its data and assumptions that underlie its multiple procedure payment reduction (MPPR) policy for the professional component (PC) pursuant to the Protecting Access to Medicare Act (PAMA) of 2014.
Appreciates CMS' efforts to improve the transparency and timing of proposed coding and relative value changes before they go into effect.
Questions CMS for identifying codes with high Medicare expenditures as being potentially misvalued.
Opposes the use of hospital cost data in the Medicare fee schedule.
Seeks guidance from CMS on whether or not its provider-based rules applied to off-campus imaging centers and if such centers can provide services to hospitals under arrangement.
Raises concerns about CMS' physician work validation study.
Recommends that the proposed unbundling of 10- and 90-day global codes be temporary and used to collect data for new global service packages.
CMS' MPFS proposed rule contains proposed payment rates and policies that, if adopted, would go into effect on January 1, 2015 unless noted otherwise. The agency's final decisions on 2015 MPFS rates and policies will be published in a rule on or about Nov. 1, 2014.
"RBMA made several thoughtful and proactive recommendations to CMS in its comments on the 2015 proposed rule," said RBMA President Keith Chew. "We're hopeful that CMS will give our recommendations serious consideration."
About RBMA
The Radiology Business Management Association (RBMA) is a national not-for-profit association providing members with applied business information and intelligence applicable in any radiology setting. The RBMA has approximately 2,300 members involved in various management capacities in private practices, academic radiology groups, imaging centers and hospitals. The RBMA continues to be recognized as the leader for radiology-specific educational programs, products and services, publications and data.