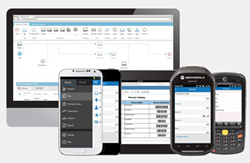 The BarCloud asset tracking system was so user-friendly and easy to follow that we just gave it to end users and just asked them to start using it
San Jose, California (PRWEB) September 10, 2014
TelePacific Communications, the largest competitor to AT&T and Verizon in California and Nevada for small and medium-sized businesses, wanted to improve inventory and asset control. Specifically, they wanted a cloud-based solution that could track items in real time using barcodes. TelePacific now fully implemented ASAP Systems' BarCloud inventory and asset tracking system.
"BarCloud was so user-friendly and easy to follow that we just gave it to end users and just asked them to start using it," says Mukesh Tikarya, VP of Internal Audit at TelePacific Communications.
Using the BarCloud mobile app on smartphones, compared to a desktop inventory application, allowed TelePacific to take advantage of the user-friendly and easily configurable online system. The organization saved money by eliminating the need to purchase barcode-scanning equipment. Additionally, the company received further savings on employee training since the system was intuitive; it required no user training at all to begin tracking inventory.
BarCloud also minimized the risk of data entry errors and reduced internal inventory control gaps that Tikarya and his team had been experiencing. The new system made it easy to account for inventory throughout its lifecycle (purchase date to when it was moved to technician's trucks or was installed off-site for a client).
"The best things about BarCloud are that it is cloud-based and very fast. Plus, it is very user-friendly," added Tikarya, referring to the performance and the effortlessness of BarCloud.
About ASAP Systems
ASAP Systems is a market leader in inventory management and asset tracking systems that uses barcode and RFID technology with barcode scanners, smartphones, and tablets. We help improve profitability by eliminating manual data entry, paper files, and forms and by automating record keeping. With our online inventory and asset system, businesses know 24/7 how and where assets and inventory are received, stored, used and disposed of in the warehouse, in the field, and in the office.
About TelePacific Communications
Telepacific is a multiple award-winning network and communications service provider to more than 40,000 businesses nationwide. The company owns and operates extensive network assets including 50,000 fiber strand miles, a Juniper and Cisco-powered MPLS IP network, four datacenters and nearly 400 colocations in 273 wire centers throughout the Southwestern and Western United States.