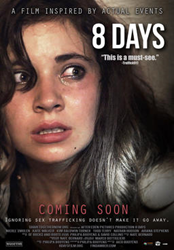 What is more culturally transformational than producing a film for a cause...
Atlanta, Ga. (PRWEB) September 10, 2014
For over 30 years, Actors, Models and Talent for Christ has served as a "bridge" for performers wanting to make an impact in the entertainment industry. Recently, AMTC Staff, Grads and Grad families united to help make 8 DAYS, a film about and against sex trafficking. Lead actress (Nicole Smolen), supporting actors (Kim Baldwin Turner, Luke Burton, Hans Ndam, Bryson Funk, Meagan Bruce, Dennis Lockman, Marikje, Mrs. America Austen Williams, Brandon Chase, Miles Wooden, Malia Brown, McKenna Sparks, Harrison and Christian Schick, Kiyomi Sanders, Savannah Holladay…) and many of the extras, cast and crew are all members of the AMTC family. The movie's official song, "Fade Out," was even written and recorded by AMTC grads Bryson Funk and Olivia Delaney.
"Everyone has something to offer," director of 8 DAYS and Presenter for AMTC, Jaco Booyens says. "Whether it be acting, organizing, drawing, music, photography, catering, serving… God gave you something to bless and serve people." Jaco also speaks about creating the film, 8 DAYS. "What is more culturally transformational than producing a film for a cause, to stop this atrocity, the selling of our American children and children worldwide."
8 DAYS is a film based around true events. After sneaking out to go to a party with her friends, sixteen-year-old Amber Stevens goes missing. Forced into the world of sex trafficking, her family and community fight to get her back.
The first 8 DAYS premiere was on Tuesday, September 9, 2014 at The Grove Theater in Los Angeles. For the next month, the 8 DAYS premiere team will travel the country showing the film in nine major cities.
8 DAYS Premiere Info:
Date                    City            
September 9       Los Angeles, CA: The Grove 
September 11     Seattle, WA: AMC                  
September 16     New York City, NY: Village East Cinema                   
September 18     Washington, DC: US Navy Memorial Foundation 
September 23     Atlanta, GA: Studio Movie Grill  
September 25     Nashville, TN: Regal Green Hills 16
September 30     Chicago, IL: Studio Movie Grill        
October 2          Dallas, TX: Studio Movie Grill  
October 7 Houston, TX: Studio Movie Grill
Each premiere will have a 5:30 p.m. arrival, 6 p.m. red carpet and 7 p.m. screening. The Houston event will have a 7 p.m. screening.
Red carpet access and interviews available for 8 DAYS premiere locations upon request. If desired, please email tiffany(at)evolutionprnashville(dot)com.
To join the movement to "Make Good Bolder" and audition for AMTC, please visit http://www.amtcworld.org.