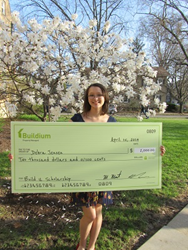 Boston, Mass. (PRWEB) September 11, 2014
Property management software company Buildium announced it will increase the value of its Build U. Scholarship in the fall of 2014 from $2,000 to $2,500, in part to meet the soaring cost of education at U.S. colleges and universities. Launched in the fall of 2013, the Build U. Scholarship encourages students to continue pursuing their degrees in technology, and to reflect on how they can improve the organizations they'll eventually work for.
A panel of judges at Buildium will present the $2,500 cash prize to the student who writes the essay that best describes how core values can lead to building a better company. Past Build U. Scholarship recipients include Debra Jensen, a freshman at North Central College in Illinois, who won in April of 2014, and Jai Krishnan, a graduate student in the Engineering Design and Innovation MS program at Northwestern University in Illinois, who won the inaugural prize in October of 2013.
"We really take our company's values seriously at Buildium," CEO Michael Monteiro said. "The first two award-winners blew us away with their essays. Raising the amount of the award is one way we can take a bit of the sting out of the high cost of their education. At the same time, writing the essay gets them to really reflect on how they can contribute to a company, above and beyond the technical skills they bring to the table."
"We can't wait to read the next round of essays this fall," Monteiro added.
To qualify, students must be at least 18 and enrolled in a Product Design, Interaction Design, User Experience Design, Engineering or Computer Science program at an accredited U.S. college or university. The deadlines for submitting the qualifying essay are October 1, 2014 for the fall scholarship and April 1, 2015 for the spring scholarship. For eligibility rules and complete details, please visit the Build U. Scholarship page.
ABOUT BUILDIUM
Buildium provides easy-to-use, affordable cloud property management software solutions to property managers and community associations. Founded in 2004, today more than 9,500 customers use Buildium's online property management software to manage nearly three-quarters of a million units in 31 countries. For more information, visit buildium.com.