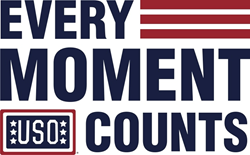 Arlington, VA (PRWEB) September 09, 2014
WHAT: Presentation of GUINNESS WORLD RECORDS® certificate to the USO at Cincinnati Reds Game
WHO: Dr. J.D. Crouch II, USO President & CEO
Alex Angert, GUINNESS WORLD RECORDS® Adjudicator
Bill Wing, Colonial Flag Production Director
Dan Meeks, Director of USO of Central Ohio
Kathy O'Connor, Director of USO of Missouri
WHEN: Thursday, September 11, 2014
12:15 p.m. – Presentation of GUINNESS WORLD RECORDS® certificate to the USO
12:20 p.m. – Every Moment Counts Flag unfurled on ball field
12:35 p.m. – St. Louis Cardinals vs. Cincinnati Reds game beings
Notes. 1) Interviews available both pre and post-game. Please contact USO Communications Manager Oname Thompson at (703) 864-5980. 2) USO photos and video available post game at uso.box.com/EMC. 3) Local press wishing to cover the pre-game ceremony must be properly credentialed by the Cincinnati Reds. To obtain media credentials please call Cincinnati Reds Public Relations Manager Michael Anderson at 513-765-7333 or MAnderson@reds.com by 2 p.m. on Wednesday, September 10. 4) Credentialed media must enter ball park through Gate 3.
WHERE: Cincinnati Reds
Great American Ball Park
100 Joe Nuxhall Way
Cincinnati, Ohio 45202
WHY: On 9/8, the USO announced that it officially broke the GUINNESS WORLD RECORDS® title for most signatures on a flag with 115,405 gathered from all fifty states and seven countries - shattering the current record set in 2012 by more than 82,132 signatures. On 9/11, the USO will officially unveil its Every Moment Counts flag and kick off a three-city flag tour with help from the Cincinnati Reds. Measuring 80 feet x120 feet in dimension and weighing in at more than 350-pounds, the larger than life flag is an extension of the USO's Every Moment Counts campaign and serves as special thank you for our military and their families – a visible act of gratitude for all they have done for our nation.
The USO's Every Moment Counts flag unveiling in Cincinnati will be attended by senior military leaders; local and national USO leadership; more than 150 USO volunteers and a GUINNESS WORLD RECORDS® adjudicator – who will present a certificate to the USO. The on field event is also a part of the Cincinnati Reds Military Appreciation Day as they hosted the St. Louis Cardinals at 12:35 p.m.
The USO's Every Moment Counts campaign to a national initiative that rallies Americans to honor and create moments that matter for our troops and their families. The campaign invites Americans to join the USO in honoring and creating moments that count by visiting USOmoments.org and allowing them to donate or send a message of thanks and give their gratitude for our troops.
For more information on Every Moment Counts, please visit USOmoments.org or join the conversation on Facebook or Twitter using #USOmoments.
About the USO
The USO lifts the spirits of America's troops and their families millions of times each year at hundreds of places worldwide. We provide a touch of home through centers at airports and military bases in the U.S. and abroad, top quality entertainment and innovative programs and services. We also provide critical support to those who need us most, including forward-deployed troops, military families, wounded warriors, troops in transition and families of the fallen. The USO is a private, non-profit organization, not a government agency. Our programs and services are made possible by the American people, support of our corporate partners and the dedication of our volunteers and staff.
In addition to individual donors and corporate sponsors, the USO is supported by President's Circle Partners: American Airlines, AT&T, BNSF Railway, Clark Construction Group, LLC, The Coca-Cola Company, Grand Canyon University, JCPenney, Jeep, Johnson & Johnson, Kroger, Northrop Grumman Corporation and TriWest Healthcare Alliance and Worldwide Strategic Partners: BAE Systems, BIC, The Boeing Company, ConAgra Foods, FedEx, Harris Teeter, Lockheed Martin, Microsoft Corporation, Procter & Gamble, TKS Telepost Kabel-Service Kaiserslautern GmbH & Co. KG and Wawa Inc. We are also supported through the United Way and Combined Federal Campaign (CFC-11381). To join us in this important mission, and to learn more about the USO, please visit uso.org.
###