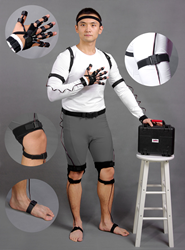 We wanted to reward all our existing backers because the support we have received so far has been amazing.
Beijing, China (PRWEB) September 09, 2014
With only three days left in its fundraising campaign, the Perception Neuron team has decided to give all of its backers an instant stretch goal as a way to thank its community.
"We wanted to reward all our existing backers because the support we have received so far has been amazing," explains Tristan Dai, developer of Perception Neuron. "We have over one thousand backers and have nearly doubled our target goal. The feedback we are getting has been invaluable to building a better product."
The instant stretch goal will give all Perception Neuron Kickstarter backers the Rumbler, a vibrating unit for tactile feedback, or the Shutter, a wireless motion capture trigger. These were both options in the first stretch goal, but with the additional of this third instant stretch goal, all backers will receive both options.
The Perception Neuron team also released pictures of its latest prototypes of the strap and harness system, as well as the carrying case the system will come delivered in. The lightweight strap system features soft fabric with a combination of hook & loop and buckles. It is designed to fit securely, yet be comfortable enough to wear for extended periods of time without hindering free movement. The glove system shown uses soft silicone clasps, combined with soft fabric straps and hook & loop. The research and development team is still working on testing additional materials for comfort and durability.
The Perception Neuron Kickstarter campaign concludes on September 12, 2014 and the first deliveries are scheduled for February 2015.
About Noitom Ltd.
Founded in 2011, Noitom Ltd. works with a team of dedicated engineers who develop world-class motion capture technology for consumer and industrial markets through the integration of MEMS sensors, pattern recognition, human kinetics and wireless transmission. Noitom is an international leader in innovative technology for use in animation, film, medical applications, robotics and gaming. Noitom is headquartered in Beijing with affiliate offices in Shenzhen. For further information about Noitom and its services, please visit, http://www.noitom.com. For general inquiries, please email, info(at)noitom(dot)com.