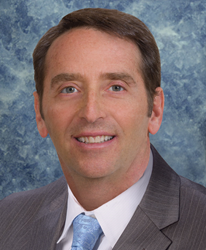 The technology is finally available to allow us to save the ligaments, and that's a very significant achievement.
(PRWEB) September 09, 2014
Dr. Ira Guttentag is the first orthopaedic surgeon in Tampa Bay and one of two in the state to be selected as early evaluator of Vanguard XP Preserving Knee replacement surgery, performed only at Florida Hospital Tampa. Traditional knee replacement typically requires the surgeon to remove the Anterior Cruciate Ligament (ACL), even if it is a healthy ligament. The new surgical implant procedure, performed only at Florida Hospital Tampa, is now available to patients in the Tampa Bay region. The new surgical implant option can be used in place of a full knee replacement as it preserves healthy ligaments, including the ACL, and improves range of motion while increasing joint stability and natural movement in patients.
"The technology is finally available to allow us to save the ligaments, and that's a very significant achievement," says Dr. Ira Guttentag, orthopaedic surgeon at Florida Hospital Tampa. "That means patients can now undergo a total knee replacement that looks, feels and functions like a normal knee and should allow them to get back to their regular levels of activities as quickly as possible."
Dr. Guttentag has observed significantly less pain post-operatively in his early patients. Additionally, these patients have attained quicker functionality and ability to return to their normal lifestyle with the new knee implant versus that of a traditional knee replacement. The design of the new forged cobalt chrome implant called the Vanguard XP Preserving Knee made by orthopaedic implant manufacturer, Biomet, incorporates geometry to accommodate and enable the natural function and preservation of the knee's healthy ligaments. Keeping healthy ligaments intact is usually recommended whenever possible due to their importance in the natural function of the knee. Dr. Guttentag is a member of the Florida Medical Clinic Orthopaedic Division. He is the first and only surgeon in the Tampa Bay region and one of only two in the state of Florida who can perform this surgery. He has extensive surgical experience in the areas of sports medicine and knee and shoulder reconstruction. For the last 14 years he has been the lead team physician and medical director for the Tampa Bay Lightning and is also the orthopaedic surgeon for the Tampa Bay Storm. Ideal surgical candidates for the Vanguard XP Preserving Knee are active patients under the age of 70 who need a knee replacement. The procedure itself takes approximately one hour. If you would like more information, please call (813) 979-0440.
About Florida Hospital Tampa
Florida Hospital Tampa is a not-for-profit 475-bed tertiary hospital specializing in cardiovascular medicine, neuroscience, orthopaedics, women's services, pediatrics, oncology, endocrinology, bariatrics, wound healing, sleep medicine and general surgery including minimally invasive and robotic-assisted procedures. Also located at Florida Hospital Tampa is the renowned Florida Hospital Pepin Heart Institute, a recognized leader in cardiovascular disease prevention, diagnosis, treatment and leading-edge research. Part of the Adventist Health System, Florida Hospital is a leading health network comprised of 23 hospitals throughout the state. For more information, visit http://www.FHTampa.org.
About Florida Medical Clinic
Florida Medical Clinic, established in 1993, is a multi-specialty medical practice providing our community with primary care physicians, specialists, and patient services all under one roof. With over 150 physicians, 33 medical disciplines, and 40 convenient locations in the Tampa bay area, Florida Medical Clinic is a leader in medical support and innovative technology. Equipped with our electronic medical record, our providers, in every location, have instant access to your medical history, providing a blueprint to better patient care. For more information, visit http://www.FloridaMedicalClinic.com.