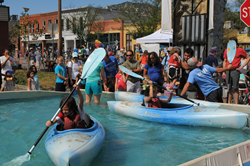 "After last year's 1000 year flood, we're excited to be back in Boulder and bigger than ever. This remarkable community amazes us every day!" ~Hillary Griffith
Boulder, CO (PRWEB) September 11, 2014
The 5th Annual Boulder Green Streets Ciclovia event, a one-day, car-free, open-streets festival, - will be held Sunday September 14th from 10AM - 4PM. Visitors will ride, roll, dance and play their way along Pearl Street from 20th Street, up 16th and across Mapleton, continuing North along 13th to the North Boulder Rec Center. Visitors will enjoy 100's of local vendors, community partners and over 15K participants engaged in over 50 FREE activities including fitness and dance classes, lots of outdoor adventure opportunities, a bike powered live music stage, morning breakfast stations and more!
Why Car-Free?
Imagine what it would be like to travel back in time before there were cars, rush hours, exhaust fumes, road rage, drunk drivers, and high insurance premiums? Sure, it might take a little longer to get everywhere…but just smell that clean, clean air.
Boulder Green Streets Ciclovia's one-day car-free festival helps participants re-imagine their worlds by encouraging them to find ways to commute and live while promoting sustainability, health & wellness. And this year we're excited to announce partnerships with alternative transportation companies like Lyft, Boulder BCycle, eGo Carshare, & Community Cycles - all providing unique ways for attendees to get to and from the festival. And as a ZERO WASTE event, we help teach local businesses and consumers best practices for recycling and composting.
A Boulderite Who Can't Ride A Bike?
Speaking of alternative transportation, Boulder is known for it's cycling culture, and in fact Bicycling Magazine rated Boulder the 3rd most Bike-friendly city in America with nearly as many bikes on the roads as cars. And yet, at least one resident still can't ride a bike. 35-year old, Erica OGrady, will be learning to ride a bike for the very first time at this year's Boulder Green Streets event. Come out Sunday to watch her take her first ride on the car-free streets.
What's New This Year?
As a community driven event, it always surprises us what vendors, sponsors and activity leaders come up with - this year is no exception. Watch as several downtown blocks become Tennis Courts, restaurants like Zeal (winner of Boulder Weekly's Best New Restaurant in Boulder) take to the streets to create sidewalk cafes and picnic areas, and skate parks, kayak simulators, and rock-climbing walls are installed along the Ciclovia Route.
As always, Boulder Green Streets will have the famous ECO Green Carpet Fashion show featuring eco-friendly fashions, along with the Organic Food Pavilion filled with over 50 local food vendors giving out samples (look for the BIG WHITE TENT).
This year's Boulder Green Streets will feature 12 Zones including a new Innovation & Creativity Zone. In conjunction with Ciclovia, Boulder Green Streets will incorporate several miles of 'open streets' for play. Along the route Green Streets coordinates many zones full of exciting programming. To get between the zones, visitors must walk, bike, dance or roll their way along the route. There will be something for everyone - young and old.
What Are The 12 Zones?
Zona Latin: Celebrate the Latin Life at Boulder Green Streets in partnership with the American Latin Eco-Festival (ALEF). Zone activities include Salsa Dancing, Live Music featuring groups like Mambo 7 & Sabor De La Calle, and Food Fiestas.
Sustainable Living: Get Green in the Sustainable Living Zone. Here find partners from Building, Energy, Gardening and more. Zone activities include Mountain Flower Goat Dairy Tours, cheese-making classes, tour de coop & more!
Let's Move: Join neighbors for FREE gymnastics obstacle course, pickle-ball games, open swim, clay play, informational tours and more inside the North Boulder Rec Center.
Health, Wellness & Safety: Fire Station One - Kids Obstacle Course, Fire Station open house, Demo of Fire Safety with live Fire. Also experience the best in alternative health and wellness, including a product samples & demos, mini-facials, manicures, pedicures.
Connected Mobility: Celebrate car-lite living in the connected mobility zone with wheel-chair and hand-cycle obstacle course, learn about carshare and other alternative transportation options for healthier, more sustainable living. Stop by and take the Car Free Pledge!!
Yoga Zone: Boulder is one of the world's top Yoga destinations. Come practice with local yoga teachers from favorite local yoga studios. Zone activities include FREE Yoga classes, morning meditation, and yoga product demos.
Cycle, Ride & Roll: Join Boulder B-Cycle for Free Bike Rentals and slow bike races, Metaskate will be on-sight with a Skate Park & Skateboard Clinic, as well as a Kid's Bike Rodeo with Community Cycles.
Outdoor Adventure: See the climbing wall & the kayak simulator? That the Boulder Green Streets Outdoor Adventure Zone. Here find top vendors in sports and recreation.
Eco Fashion & Design: Each year we bring the best Eco Fashion styles and trends. Zone activities include a morning sketch class, a custom bike show-off meetup, a Helmet Hair Do Show, and of course the world famous Green Carpet Fashion Show with Special Guest MC.
Organic Food Pavilion: Sample the very best in Boulder (and surrounding area) Organic Products. The Organic Food Pavilion will feature more than 50 Vendors offering FREE samples of healthy, nutritious and delicious snacks. Look for the big white tent!
Creativity & Innovation: New this year, the Creativity & Innovation Zone will feature the best of Boulder arts, crafts, technology and more. Come learn about the growing coworking movement, participate in fun art installations, paint, draw, build, sculpt, design and more.
Activity Centers: Located throughout the route find various activity centers filled with fun and engaging activities for kids and grown ups alike.
As a community-powered project, Boulder Green Streets one day event creates positive environmental and social change as well as increased awareness around health and sustainability issues. Thanks to the Boulder Green Streets 2014 sponsors.
Gold Sponsor
GoBoulder
Silver Sponsors
Parks&Rec
ETHIC
Bronze Sponsor
Boulder Brands
Zone Sponsors:
Gold: Parking Services, LEAD, Western, eGo Carshare, Boulder Bcycle, Sierra Club, Elevation Credit Union, Avid4Adventure
Silver: Whole Foods, Door to Door Organics, Zevia, Best Organics, YMCA, ALEF
Bronze: Nissan, Naked, Bambo Fund, Zeal Optics, The HUB, Way Better Snacks, Rudi's, EneraHealth
Power Sponsors
Zellner Chiropractic
Meta Skateboard
Village Green Society
Boulder Housing Partners
Media Sponsors
Boulder Weekly
Telemundo
Elephant Journal
BikeLife
Community Partners
Best Organics/Compass Natural!
ALEF! The Boulder CUP
eGo Carshare
The Hill Flea
Community Cycles
Bridge House
Sticker Giant
Pride
One Year Anniversary of the Boulder Floods
Sadly, due to last year's Boulder Floods, Boulder Green Streets Ciclovia was cancelled in 2013. That's why we're expecting record crowds this year! In the words Founder Hillary Griffith, "After last year's 1000 year flood, we're excited to be back in Boulder and bigger than ever. This remarkable community amazes us every day!"
We'd like to take a quick moment and thank all of the groups who helped clean up and manage last year's disaster including: The Mudslingers & Donate Boulder, Boulder Flood Relief, SparkRelief, The Community Foundation, and of course The City of Boulder. It was a tough year, with many residents losing their homes and businesses, but we're honestly proud of the way people came together in a time of need. As a community we feel closer and stronger than ever.
Come march with the Boulder Samba School and ride in the Community ride and People Power parade as we move as a community along the route celebrating togetherness and resilience.
To participate in this year's Boulder Green Streets visit http://bouldergreenstreets.org/ and be sure to sign up to take this year's Car-Free Pledge - http://www.bouldergreenstreets.org/pledge/.
For media inquiries please contact erica(at)bouldergreenstreets(dot)org