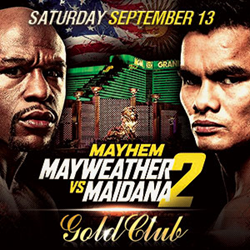 San Francisco, CA (PRWEB) September 09, 2014
Gold Club San Francisco is inviting all their customers as well as boxing fans to come down and see Mayweather vs. Maidana 2 on Saturday, Sept. 13.
Floyd "Mayhem" Mayweather will be taking on Marcos Maidana in a rematch at the MGM Grand Garden Arena. The two previously faced each other in May for the welterweight boxing championship, "The Moment." The fight was won by Mayweather.
Gold Club will be presenting Mayweather vs. Maidana 2 on the largest HD screen in San Francisco. The event will be screened live on pay-per-view on Saturday, Sept 13. The undercard bout starts at 6 p.m.
"It's no secret that Gold Club is the best place to watch boxing," said Axel Sang, director of marketing for BSC Management. "With a huge HD screen, world-class entertainment and fantastic food and drinks, you won't find a better experience anywhere else in San Francisco."
To reserve a table for Mayweather vs. Maidana 2, visit Gold Club's website. The event is expected to sell out, so all guests are encouraged to make their reservations now. Gold Club is located at 650 Howard St., San Francisco, CA 94105. To learn more, call 415-536-0300 or visit their website.
About Us: Gold Club is San Francisco's premier gentleman's club, featuring some of the most beautiful women in the area. Conveniently located within walking distance of Moscone Convention Center and the Museum of Modern Art, Gold Club is the number-one destination for quality adult entertainment. With world-class entertainers, full-service dining, personalized bottle service, a complimentary lunch buffet, private rooms and the top DJ's and MC's, Gold Club has everything their guests look for in a strip club and much more. Gold Club is a part of BSC Management and is open 11:30-2 a.m. Monday through Friday, 7 p.m. – afterhours Saturday and 7 p.m. – 2 a.m. Sunday. For more information, visit their website.