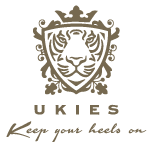 Our AM-PM Collection, with a patented nanogel technology, provides unique comfort in a timeless heel that meets the needs of women everywhere
Atlanta, GA (PRWEB) September 10, 2014
UKIES will be showcasing its AM-PM Collection and patented nanogel technology designed for exceptional women's high heel comfort at the Wine Women & Shoes event on September 14th at the InterContinental Buckhead Atlanta. This is the first year UKIES will be participating in the annual event, benefitting ovarian and gynecological cancer research at Northside Hospital.  Guests will sip on wine, shop designer shoes, and be treated to a fashion show, all while giving to an important charitable cause. 
UKIES founder Umaesh Khaitan believes that women should never have to choose between looking great and feeling great. "Our AM-PM Collection, with a patented nanogel technology, provides unique comfort in a timeless heel that meets the needs of women everywhere."
Guests will have the opportunity to bid on their first pair of UKIES in the silent auction. Co-founder and designer Kavita Khaitan believes in giving back through charities that support and empower women all over the world. "UKIES was born from a very specific question, stemming from a very specific problem that busy women all over the world asked: why must a pair of heels force me to make a trade-off between comfort and style? Woman should always enjoy the feeling, benefit, and style of looking great in their heels, without the constant urge to take them off. This is why we created UKIES."
UKIES is available online at http://www.Ukies.com and on Amazon.com. If you are attending Wine Women & Shoes, please come see us to try on a pair of UKIES, meet our team and hear our story.
About UKIES:
UKIES has paired timeless elegance with ultra-comfort through a patented nanogel technology. The materials used in each pair of UKIES reflect our commitment to deliver the very best technology, design and materials in every pair of shoes. UKIES is passionate about delivering a solution to help women look good, feel good, and project that feeling outward. For more information about our story and products, please visit our website at http://www.ukies.com and follow us on twitter @ukiesllc.