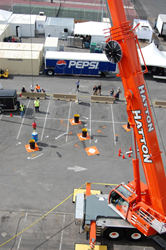 The Crane Operator & Rigger Skills Competition is designed to underscore the need for safe crane operation.
(PRWEB) September 10, 2014
Crane Institute Certification (CIC) announces the hosts for nine Regional Crane Operator & Rigger Skills Competitions to take across the United States, beginning Oct. 11, 2014.
The Crane Operator & Rigger Skills Competition is designed to underscore the need for safe crane operation. The only crane operator recognition program of this scale in North America, the event provides a venue for the best crane operators to set the bar for all crane professionals.
Twenty top qualifiers from the CIC Regionals will advance to a Championship, to be held at a high-profile venue in late 2015. Regional hosts will sponsor the travel and hotel expenses for the finalists to compete for cash and other prizes at the Championship. Visit http://www.cicert.com/news/compete to register for a Regional Crane Operator & Rigger Competition near you. The registration fee is $50.
2014 Regional Competitions
Midwest
Oct. 11, 2014, hosted by North Dakota Crane Certification, in conjunction with the 60th Annual Minot Y's Men's PRCA Indoor Rodeo and the Badlands Cowboy Christmas Expo & Trade Show, Minot, N.D.
Northeast #1
Oct. 25, 2014, hosted by Cranes 101 and Woods CRW, Oxford, Mass.
West
Nov. 15, 2014, hosted by Crane Service Industries, Bakersfield, Calif.
2015 Regional Competitions
Southeast #1
Jan. 17, 2015, sponsored by Crane Industry Services and M&P Specialty Insurance and hosted by Superior Crane, in conjunction with Grand Opening of Superior Crane's new headquarters, Rockingham, N.C.
World of Concrete
Feb. 2-6, 2015, hosted by Crane Institute of America, Las Vegas, Nev.
Southwest
April 23, 2015, hosted by Laguna Crane Services and BC Equipment, in conjunction with Buccaneer Days Festival & Carnival, Corpus Christi, Texas.
Southeast #2
Date TBA, hosted by Crane U and CraneWorks, Birmingham, Ala.
Northwest
Date TBA, hosted by Industrial Training International, Woodland, Wash.
Northeast #2
June 6, 2015, hosted by Cranes 101 and Woods CRW, in conjunction with the opening of Woods CRW's new office in Carlisle, Pa.
Competition standards and scoring are designed by Crane Institute Certification and administered by CIC Practical Examiners. The competition includes three crane operation challenges to assess precision and depth perception. Scoring is weighted 80% on successful completion of the course. Crane operation will be on a telescopic boom crane with minimum 70-foot booth length.
An additional 20% of the overall score assesses the operator's knowledge of basic rigging principles, including inspection and selection of appropriate rigging. The rigging portion of the competition is designed by Columbus McKinnon Corp.
About Crane Institute Certification
Crane Institute Certification (CIC), Villa Rica, Ga., is an independent certifying organization providing OSHA recognized, NCCA and ANSI accredited certifications for mobile crane operators according to type and capacity, as well as rigger and signalperson certifications. CIC is committed to serving construction, utility and power generation, underground construction, manufacturing, and heavy industry by providing efficient and relevant certifications to meet or exceed OSHA requirements and industry best practices.
With CIC one Practical Exam can earn up to five certifications. Among the certification programs that CIC has recently released are for operators of Multi-Purpose Equipment, including Digger Derricks, Articulating Boom Cranes, and Service/Mechanics Trucks. Exam questions and tasks are relevant to real-world work sites. Exams are available in English and Spanish.
About Maximum Capacity Media Group Inc.
MCM Group LLC, a subsidiary of Heartland Communications Group Inc., publishes a number of heavy equipment magazines, electronic newsletters, and websites for the North American market. Its print products—Crane & Rigging Hot Line, Lift and Access, Contractors Hot Line, Attachment Connection, and Parts Connection—analyze new technologies, discuss industry trends, and review unique applications for buyers and owners of construction and rental equipment.