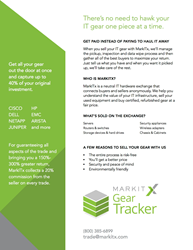 Chicago, IL (PRWEB) September 10, 2014
MarkITx, a transparent marketplace for buying and selling used enterprise IT equipment, today announced the launch of Portfolio Selling via GearTracker, a new service that allows companies to sell large quantities of pre-owned data center and IT hardware in one secure and easy transaction.
Portfolio Selling, which just completed a three-month beta, is available to companies that want to cycle out old IT gear more efficiently and quickly, while also capturing up to 40 percent of the equipment's original value. Portfolio Selling is particularly critical as more large companies migrate to the cloud, consolidate data centers and make new infrastructure investments to tackle Big Data challenges.
"MarkITx was founded to make it simple to reliably sell IT equipment, regardless of the quantity or specifications," said Frank Muscarello, MarkITx co-founder and CEO. "With Portfolio Selling, even the largest sellers can capture all of their equipment's true value in a single seamless and integrated transaction."
For Portfolio Selling, MarkITx follows a four-step process that ensures equipment quality, protects the seller's data, estimates the equipment's true worth and guarantees the transaction and each counterparty's reliability.
Step 1: Inventory Pickup
Companies sign up for Portfolio Selling online, at which time MarkITx initiates a streamlined pickup process. Thus, simply by signing up, with no commitment to ultimately sell on MarkITx, companies can immediately free up valuable space in their facilities by transferring equipment to R2- and e-steward-certified locations.
Step 2: Inventory Audit
MarkITx and its partners conduct a full physical audit and test every item to be sold, maximizing their equipment's value by giving prospective buyers confidence about quality and reliability. During this audit process, MarkITx meets the highest standards for secure data destruction, including Department of Defense Certificates of Destruction. Companies may also request on-site data destruction for added security.
Step 3: Inventory Assessment
MarkITx provides a detailed inventory of equipment with an estimated value for each item. It is at this point that the seller decides whether to post the gear to be sold on MarkITx or have it shipped to another location.
Step 4: Equipment Portfolio Posts to MarkITx – Anonymous and Risk-Free
To the seller, Portfolio Selling ends in a single transaction, but MarkITx maximizes the equipment's total value by promoting each individual item to an extensive network of pre-approved global buyers with interest in particular types and brands of equipment.
"Even when IT executives know there's value in their equipment, the old sales process has been so painful that many are happy simply to pay to have equipment hauled away," said Muscarello. "MarkITx's Portfolio Selling offers the convenience of rapid removal but with a real return for used equipment."
To learn more about how to unlock the value in enterprise IT equipment, contact
http://www.markitx.com or 800-385-6899.
About MarkITx
MarkITx is a technology company that is transforming the way the world trades IT hardware. Using predictive algorithms, the company's transparent online marketplace helps enterprises recoup as much as 40% of their original IT investment by providing a fair market value of IT equipment in real time. MarkITx eliminates risk at every step by maintaining anonymity between parties and keeping funds in escrow until equipment has passed a thorough inspection and certification from a qualified OEM refurbisher. Founded in 2012 by a team of serial entrepreneurs, the Chicago-based company currently serves more than 3,000 customers and is doing business on five continents. For more information, visit http://www.markitx.com or follow @MarkITx. For more information, please visit http://www.markitx.com.