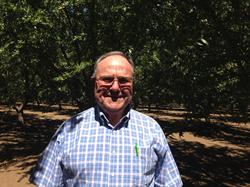 When you deficit irrigate, you can get more even drying across the orchard and nuts start to crack more uniformly. But if you stress a little too much, you start to hurt the kernel size. It is a very fine balance.
MAXWELL, CA (PRWEB) September 10, 2014
Vierra Brothers, formed by three almond growers in Maxwell, CA in 2005, achieved a remarkable yield of 2,700 lbs. per acre last year from a 5-year orchard. This orchard is located on the west side of the Sacramento Valley, where this is a pretty strong result. Bob Vierra attributes the majority of this success to their use of the Rain Bird ClimateMinder soil moisture monitoring system to manage their irrigation.
By accurately controlling the timing and the amount of irrigation, Vierra Brothers is able to manage the deficit irrigation process properly, which is very important to maximize the yield by obtaining optimum kernel size and achieving more uniform hull split. "When you deficit irrigate, you can get more even drying across the orchard and nuts start to crack more uniformly. But if you stress a little too much, you start to hurt the kernel size. It is a very fine balance. To manage this well, you need precise tools like the ClimateMinder system," says Bob Vierra.
As relatively new almond growers, Bob and his brothers realized very quickly that they needed all the cutting-edge tools to help them make better decisions to be successful in growing almonds. "Our orchards are on a heavy ground, so we can't go out there right after the irrigation. But we can see our water application through the probes remotely. This system gives us the ability to check whether we applied too little or too much water anytime we want. This is a great management tool to stop the waste of fuel energy and avoid developing disease problems," says Bob Vierra.
Bob Vierra's Rain Bird ClimateMinder system is installed and maintained by LaserMan, Inc. in Oroville, CA. Pete Eberhardt, the owner of LaserMan, Inc., said: "LaserMan is dedicated to help its growers become more efficient in their farming practices by using the cutting-edge technologies. Rain Bird's acquisition of ClimateMinder in 2012 allowed us to offer the most innovative product in the market with the strength and reliability of a major player like Rain Bird. Our close partnership in the field benefits our growers in terms of increased yields and quality as well as reduced costs."
Bob believes that the ClimateMinder software is user-friendly and feels very comfortable navigating through the pages to access critical information quickly. He especially likes the look and feel of the recently introduced map-view, which allows him to identify problem areas quickly with color-coded map icons.
Bob Vierra's interview video is available at http://youtu.be/J-mffNm1ULY
For more information about the Rain Bird ClimateMinder system, visit http://www.rainbird.com/ag/products/ClimateMinder
ABOUT RAIN BIRD CORPORATION
Headquartered in Azusa, Calif., Rain Bird Corporation is the world's leading manufacturer and provider of irrigation products and services. From simple beginnings in 1933, Rain Bird now offers the industry's broadest range of irrigation products for farms, golf courses, sports arenas, commercial developments and homes, available in more than 130 countries. Rain Bird acquired ClimateMinder in 2012 to help growers increase profits and improve sustainability through the use of state-of-the-art information technologies. http://www.rainbird.com
ABOUT LASERMAN, INC.
LaserMan is a full service company offering a complete line of Precision Ag, GPS Guidance, GPS Leveling Systems, & Services for Agriculture. LaserMan is committed to assisting its customers improve their operations and maximize their efficiency. The company offers on-site installation, training, & technical support, with locations in Richvale, CA. & Woodland, CA. and a knowledgeable sales and service team. LaserMan provides its customers with only the best, value-oriented products & solutions from the leading manufacturers. http://www.lasermanca.com
ABOUT BOB VIERRA
In 2003, Bob retired from his job as an Ag school teacher. At that point, one of his brothers was in rice farming and the other one was working for farm credit. After their mother passed away in 2005, three Vierra Brothers started their farming operation. Today, they have three different ranches over a total of 171 acres in Colusa County. Bob is a board member of the 44th District Ag Association (Colusa County Fair) and helps with the organization of the Colusa Farm Show.