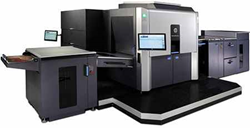 To learn more about Southern California Graphics and the capabilities of its HP Indigo 10000 Press, visit SoCalGraph.com or call us today for more information at (310) 559-3600.
Los Angeles, CA (PRWEB) September 10, 2014
New press increases production speeds and expands application offerings Southern California Graphics, a world leader in premier commercial printing services, today announced that it will install the HP Indigo10000 Press to boost productivity and offer a wide array of applications to its customers.
Founded in 1974 as a small print shop, Southern California Graphics has grown into one of the finest commercial printers in the country. Our company leads the industry in print, pre-press, and data-driven marketing capabilities. The increasing need for quick turnaround times and a diverse set of print offerings led Southern California Graphics to install the HP Indigo 10000 Press.
Southern California Graphics' staff of 90+ employees affords us the ability to offer a wide range of printed products and our commitment to the most cutting-edge print technology leads our clients into the future of print marketing. Southern California Graphics, along with the HP Indigo 10000 Digital printing technologies, makes it possible to streamline production while offering more than ever before.
"Our company has top of the line printing presses, has invested countless amounts of money into new technology," said Southern California Graphics president Tim Toomey. "With the HP Indigo 10000 Press we are showing our customers that we can predict their needs before they come to us with them."
The HP Indigo 10000 is a winner of the prestigious 2013 Intertech Technology Award, which honors technological innovation and excellence on a national scale. In 2014, Southern California Graphics took home more than a dozen awards at the10th Annual Regional Print Excellence Awards in Los Angeles, which honors excellence and innovation in the printing industry.