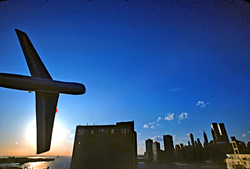 "It's as if for on brief instant, I had a chance to look into the future"
New York, New York (PRWEB) September 10, 2014
Shot in 1975, the photograph captures a low flying jet that makes a bee-line right towards World Trade Center. Robert Funk is sharing the recently discovered photograph in light of the upcoming anniversary of the September 11 terrorist attacks.
See the high-res photo at http://www.robertfunkart.com
Robert Funk appears to document a moment before the jet crashes in to the Twin Towers.
Everything seems to be the same as the fateful day of 9/11/201 but something is different.
It's early morning, the light is clean and sharp. The saturated deep blue sky becomes a foreboding black to imply that something bad is going to happen. The position and angle of the jet points with determination to it's target. On second glance, you see that this is a 1975 skyline. The jet is a toy and the picture is a prediction.
Robert Funk is a master of creating illusions. It's not a real jet plane but his artistic skills make it look like one.
The jet is made of plastic and is 16 inches long. It's being held in the photographers left hand while his right hand holds the camera. A 20mm wide angle lens at f/22 gives maximum depth of field so that the foreground toy jet and the New York skyline are both in sharp focus. He positions the jet right behind the sun to create a haunting silhouette and also to disguise the surface detail of the toy plane. This creates a greater sense of realism and believability and makes an eerie illusion appear real.
"I was just a photographer and not a Nostradamus in 1975. However, this photo is so uncanny the way all the pieces seem to come together to create an event that has not yet happened. It's as if for on brief instant, I had a chance to look into the future. Amazingly, I just discovered this photograph a week ago; I have not see it for almost 40 years. It was one week before the 9/11 anniversary."
Robert Funk was widely published in the 1970's. He was one of the first photographers to use miniatures and to create staged photographs that looked like real life but were not. He has been an artist, photographer, advertising art director and social network pioneer for 43 years. See more miniature photographs and staged photographs at http://www.robertfunkart.com