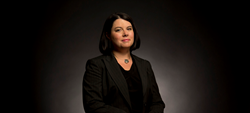 "When Laura joined the firm two years ago, we knew she had great design acumen. That, coupled with her wealth of experience that would enhance Array's process and would be welcomed by our clients, makes Laura a great addition to our leadership team"
Philadelphia, PA (PRWEB) September 12, 2014
Laura Morris, AAHID, LEED AP BD+C, IIDA, Lean Green Belt Principal & Senior Interior Designer at Array Architects is providing design guidance to leading healthcare systems throughout the nation.
She brings an inherent sense of space, accentuates patient-centered care with her designs and improves staff workflows by employing the tenets of process-led lean design. Integral to the success of New York Presbyterian's Milstein Patient Tower renovation project, view this video to learn more about Laura's skill set.
"Laura has helped accelerate our growth as a knowledge-based practice. Integrating Laura's expertise with Array's process-led lean design approach, has resulted in numerous successful projects in her two years with the firm. We are delighted to recognize the contributions she has made to our firm," notes Patricia Malick, AAHID, EDAC, Lean Green Belt, Practice Area Leader for Interior Design.
Laura can be reached at 610-270-0599 and lmorris(at)array-architects(dot)com.
Array Architects offers a full complement of knowledge-based services including planning, architecture, interior design and advisory services. Array is ranked by Modern Healthcare in the top 35 largest firms in the US, by design fees earned in 2013. When comparing fee volume of design firms focused exclusively on healthcare, Array has a #1 ranking across the U.S. In Architectural Record's Top 300 List, Array is ranked 83 worldwide.