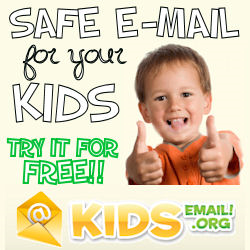 We are ecstatic about the decision rendered by the U.S. Patent and Trademark office to award us the trademark when describing our service
Arbon, Idaho (PRWEB) September 10, 2014
KidsEmail, the award-winning, family friendly email service is celebrating the announcement of being awarded a federal trademark for "kids email." The trademark means KidsEmail.org has exclusive rights to the phrase "kids email" when describing their service of providing email and instant messaging services for children. The trademark was awarded August 26, 2014.
"We are ecstatic about the decision rendered by the U.S. Patent and Trademark office to award us the trademark when describing our service," said KidsEmail spokesperson and CEO Jacob Andersen.
"The trademark represents just how unique our family friendly email is. We launched the service in 2009, and it has grown exponentially over the past five years. Every day we get messages from happy parents telling us how much they love the service and the peace of mind it provides. Being awarded the trademark symbolizes the strides we've made and the hard work we've put in. We couldn't have done it without a great team, and the thousands of wonderful parents and kids around the world that use Kids Email," Andersen went on to say.
Kids Email is an email service that allows kids ages 5-14 to have their own email address while giving parents the ability to monitor and protect their children from improper content, cyberbullying, and internet predators.
Kids Email comes standard with features including mail monitoring, time restrictions, GPS tracker, block sender, word filtering, activity log, and mobile app.
To learn more about the KidsEmail Trademark and the KidsEmail service visit:
About KidsEmail.org
Launched in 2009, KidsEmail.org is a safe email service designed to protect kids ages 4 to 12 from Internet dangers including cyberbullying, pornography, predators, and email from strangers. This service allows kids to only send emails to and receive emails from people on their contact list while also allowing parents to monitor email conversations. Visit KidsEmail.org to learn more and to sign up for a free trial.