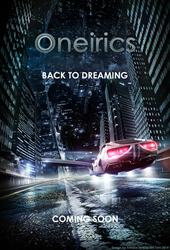 (PRWEB) September 23, 2014
For three years Oneirics Electronics have been researching the brain and sleep, resulting in the creation of three devices that help people control their dreams in just a few days. Now they are ready to launch a Kickstarter campaign to help raise $2,000,000 to aid in the continuation of Lucid Dream Research (http://www.nature.com/neuro/journal/v17/n6/abs/nn.3719.html) with Electrical Brain Stimulation and make a safe commercial device. The prototypes are all finished, now it's about getting the product produced and out there.
This revolutionary product allows people to gain full control of their dreams, and truly master the virtual reality through lucid dreams. "More than playing a video game or watching a movie, Oneirics creates a complete universe where all five senses come into play, where lucid dreaming is not merely an idea but an attainable reality." Said Tony, founder and CEO, "With Oneirics, we hope to make your dreams come true."
The system consists of three devices that are designed to work together as they train the brain to recognize the difference between reality and dreaming:
The Oneirics Trainer is a Smart Bracelet that's designed with Bluetooth's low energy. This allows it to be configured via smartphone. During the day the trainer communicates with the user to check whether or not they are dreaming. Then at night a notification will be sent when dreams have occurred.
The Oneirics Mask communicates with the Trainer to inform the dreamer that they are dreaming. The Mask has a variety of features that allow the user to have full control of their dreams including: eye tracking, vibration alerts when dreaming, breathing sensor, smart alarm, and even the ability to update social media status' while asleep.
The Oneirics Diary is an application for the smartphone that records the statistics the Mask collects each night. Part of the training to improve lucid dreams, is using the Diary to keep detailed records of dreams that occurred and whether or controlling them was achieved.
Through this Kickstarter campaign, Oneirics Electronics plans to have these products ready to ship out by March of 2015.
About Oneirics Electronics
Oneirics Electronics has been researching the brain and sleep for the last three years. As a result, we have created several devices to help people control their dreams. Working with the latest technology we expect to become leaders in the market. For more information, please go to: http://www.Oneirics.com.