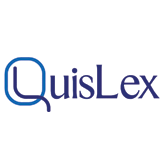 New York, NY (PRWEB) September 10, 2014
QuisLex, Inc., announced today that the International Association for Contract & Commercial Management ("IACCM") has selected QuisLex as a finalist for the Innovation Award for Outstanding Service Provider. The three finalists were selected from over 80 qualified entries on the basis of having significantly enhanced contract and commercial capability within their clients' organizations.
The IACCM will host a webinar on Thursday, September 11, 2014 at 11:00 AM EDT to interview the finalists for the Outstanding Service Provider Award and provide an overview of the nominated projects. As part of the webinar, QuisLex Chief Operating Officer Sirisha Gummaregula and Associate Vice President, Client Solutions Sailaja Meesaraganda will discuss the project for which QuisLex was nominated. For more details and to join the webinar, please click here. The IACCM will announce the winners during an awards ceremony in Chicago on October 14, 2014 during its IACCM Americas Conference.
About QuisLex:
QuisLex is an award-winning legal services provider specializing in executing complex document review, contract management, and compliance projects for leading corporations and law firms throughout the world. QuisLex has reviewed over three billion pages in support of litigations and investigations, and drafted, negotiated, and reviewed hundreds of thousands of contracts in connection with compliance initiatives, M&A due diligence, and contract lifecycle management.
Since its founding in 2004, QuisLex has been a pioneer in the offshore legal services industry. With more than 800 attorneys, process experts, statisticians and linguists, QuisLex continues that tradition today by delivering solutions that reduce costs, mitigate risks, and enhance quality. The company's expertise in providing these benefits has been recognized by both clients and the legal industry at large, including being consistently ranked by Chambers & Partners as a Band 1 legal outsourcing provider and the New York Law Journal as a top legal services provider. For more information, please visit http://www.quislex.com.