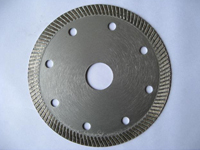 Zhengzhou, China (PRWEB) September 10, 2014
According to iAbrasive latest news, (http://www.iabrasive.com/articles/current-situation-and-industry-outlook-of-ultra-thin-diamond-saw-blade) Recently, silicon material has witnessed a swift and violent development. As a kind of inexhaustible clean energy, solar energy has been a recent focus, and it has become a prevailing trend to take advantage of solar energy for commercial use. Solar cell is a typical product. With the growing maturity of semiconductor manufacturing technology, silicon wafer manufacturing costs have been reduced, but silicon wafer cutting costs remains high, accounting for 30% of the total manufacturing cost of a solar cell. To improve material availability, silicon wafer cutting tends to adopt the use of an ultra-thin diamond saw blade. The most commonly used saw blades fall into two categories: electroplate saw blades whose thickness is 15-100μm and resin saw blades whose thickness is 100-500μm. In China, the technology needed for producing electroplate ultra-thin diamond saw blades remains in the experimental stage; the ultra-thin cutting discs needed for production have depended heavily on imports. Therefore, the technology needed to develop high precision diamond cutting tools is an urgent problem to be solved in the diamond abrasive industry in China.
Ultra-thin Diamond Saw Blade Research Status
1. Curing Resin Method
Usually the thermosetting phenolic resin method adopts phenolic resin as the bonding agent; mix diamond abrasive grain with resin, sinter with hot-pressing technology and thermosetting, after which it takes several hours to fulfill the process. So the curing resin method is costly. With the progress of technology, the thermosetting phenolic resin method is gradually being replaced by photosensitive resin, which is composed of base polymer, reactive diluents, photo-initiator, and additives. The essential difference between the curing resin method and the thermosetting phenolic resin method is that the curing resin method is that its solidness process is a chemical process caused by absorbing light. As a result, the curing resin method has such advantages such as expediting setting, zero pollution, energy saving, etc.
2. Electroplating Process
The electroplating process means depositioning a thin layer on the metal substrate's surface or the alloy process by taking advantage of electrolytic action. The micro particles will enter into the compound electroplated layer by electrolytic action.
For electrochemical deposition, electroplate liquid—Ni-Co should be adopted. The formula is (g/L): nickel sulfate 220-240, cobalt sulfate 15-30, boron acid 25-35, sodium chloride 10-20, and diamond micro powder 5-10. The experiment operating conditions are: electroplating temperature should be 45℃ to 50℃, and PH value is 4.1 to 4.5. Use an air pump to stir; the quench time is ten minutes. The compound layer adopts a heating method to peel off the substrate and then goes through cold punch forming. For finished products made in experiments, after cutting single crystalline silicon, it proved satisfactory for the cutting demand, and the cost has declined by one-third.
Diamond Saw Blade Industry Outlook
With the development of technology as well as the improvement of people's living standard, the demand for silicon wafers has been on the increase daily. The quality of silicon wafers is of great significance to ultra-thin cutting discs. Among various manufacturing methods, the electroplating method distinguishes itself by its simple equipment, environmental protection and recyclable production. If certain measures are taken to further shorten the time and improve the performance of the plating solution, the ultra-thin cutting disc equipment will experience a qualitative leap.
Author: Liwei Chu
Copyright: iAbrasive.com--Abrasives & Diamond Tools Market