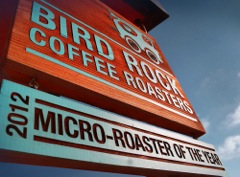 Most roasters don't usually bother working with beans from Yemen, as the quality can vary so greatly, but when an extraordinary coffee becomes available, we're willing to pay top dollar so we can share the unique characteristics with our community.
La Jolla, Calif. (PRWEB) September 10, 2014
Today, specialty coffee retailer, Bird Rock Coffee Roasters announced that they would carry an extremely rare coffee from Yemen. Although it is known as the birthplace of coffee, Yemen tends to grow and roast its coffee without proper equipment and modern infrastructure, so quality beans from this country are usually in limited quantities and are in high demand, due to the historic relevance.
The Yemen Haraaz Red Maragaha is a considered a high quality coffee, as the farmers who grew the beans were paid a substantial rate to deliver perfectly ripe cherries to the exporters who dried the cherries under strict and uniform quality control standards on Kenyan beds that ensure more air circulation and better drying conditions than on rooftops. After drying, the cherries were carefully milled, sorted, and put through another round of rigorous quality control, resulting in a quality lot that is not commonly seen in Yemen.
"At Bird Rock Coffee Roasters, we strive to offer rare and complex coffees to our customers, who wouldn't otherwise have the opportunity to taste," said Chuck Patton, owner of Bird Rock Coffee Roasters. "Most roasters don't usually bother working with beans from Yemen, as the quality can vary so greatly, but when an extraordinary coffee becomes available, we're willing to pay top dollar so we can share the unique characteristics with our community."
The tasting notes for the Yemen Haraaz Red Maragaha are dried strawberry, honeydew melon, coconut and leather, and is creamy and rather dense-bodied. This coffee will be featured at the pour-over bar at Bird Rock Coffee Roasters while supplies last and is available to purchase in-store and online for $19.99 for an 8-ounce bag. For more information, please visit http://shop.birdrockcoffee.com/coffees/
About Bird Rock Coffee Roasters
Recognized as Roaster of the Year in 2012, a national once-in-a-lifetime award, Bird Rock Coffee Roasters (BRCR) is proud to have put premiere coffee on the map in San Diego. A regular contributor to the international coffee industry, a consistent winner of multiple awards above the score of 90 from Coffee Review and with a Q-Grader certified roaster on site, the Bird Rock Coffee Roaster's staff is sought after throughout the world for their coffee expertise. Going beyond the perfect latte, Bird Rock Coffee Roasters has the top quality Roaster on site, a pour-over bar featuring the top seasonal varietals, weekly cuppings open to the public for a sneak peak into the newest offerings, and a deep dive into the selection process and all things coffee. Bird Rock Coffee Roasters goes beyond the confines of the fair trade structure and engages in direct trade with farmers, and is proud to serve the best green coffee, prepared with the utmost respect to those who grew it. Bird Rock Coffee Roasters is located in La Jolla, CA. For more information, please visit http://www.birdrockcoffee.com
###