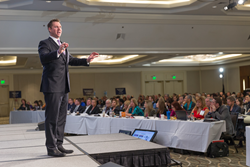 "When it comes to your victory, it's not the outside stuff that matters but the inside stuff that counts."
(PRWEB) September 11, 2014
Three-time cancer conqueror and worldwide marathon runner Matt Jones will be the keynote speaker at the National Conference for the Independent Insurance Agents Young Professionals on September 13th in Grand Rapids, Michigan.
"You need to develop a marathon mentality to deal with the realities of fighting cancer," said Jones, who is celebrating his 12th anniversary of being diagnosed with leukemia on September 11, 2002. At one point the cancer would spread to his brain and Matt slipped into an unconscious state. Doctors did not think he would live.
Against all odds, Matt recovered and had to relearn how to walk. "When I had to relearn how to walk, my dad told me, 'Son you can do it, one step at a time.' That's when I realized you need to become a 'Solutionist,' someone who is solution oriented and not problem focused when dealing with adversity." You can more information about him at http://www.MatthewDJones.com
Matt uses the metaphor of the marathon to share strategies that help individuals develop their marathon mentality. Matt describes this as, "mindset to push through the walls of adversity, setbacks, and failures in order to cross one's finish line and achieve greater victory." Matt will also be running his sixth marathon on his sixth continent in Cape Town, South Africa on September 21st.
Through his experiences, Matt fires up, pumps up, and inspires audiences to overcome obstacles and achieve greater victory both personally and professionally. According to Matt, "when it comes to your victory it's not the outside stuff that matters but the inside stuff that counts."
Matt Jones is considered a top leadership keynote motivational speaker. From three-time cancer conqueror to now, life changing inspirational speaker, audiences love Matt. Visit Matt at http://www.MatthewDJones.com